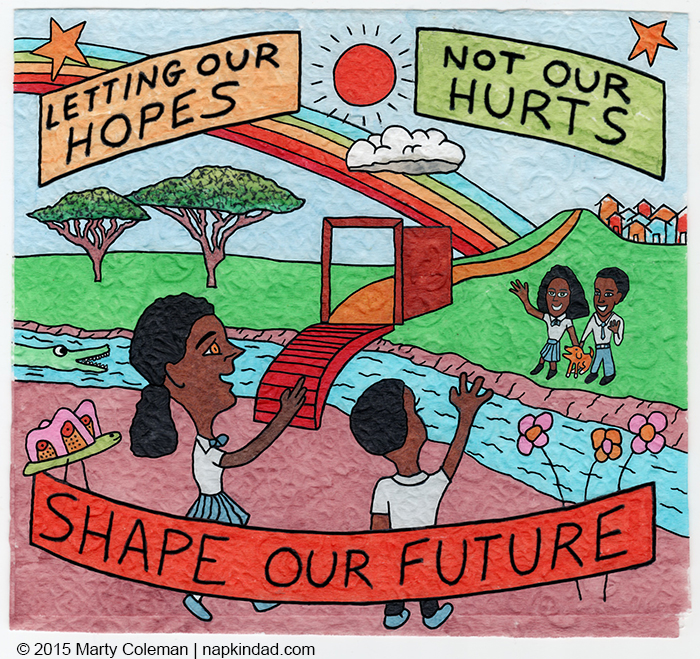 Purchase the original | Purchase a print (all profits go to Neema International) | matte and frame available
---
A year ago I was asked to create an image about a charity I would like to have people donate to. It was going to be produced on T-shirts, etc. and sold, with the proceeds going to the charity. For a number of reasons it never came to pass. BUT I did do the drawing. The drawing and prints are available for sale. All profits will go to Neema International.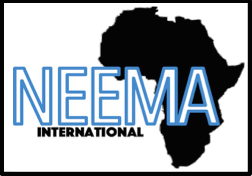 The charity I chose is one I have supported for a couple of years now, Neema International. The money goes to support the Tuleeni orphanage in Tanzania as well as outreach to the entire community of children in the surrounding villages. Neema International is headed by Mandy Stein, an amazing young woman originally from Texas who now lives and works full time at the orphanage. She plans, builds, teaches, negotiates, and works her butt off to make a better life for the kids. Whether it's new buildings, uniforms for school, supplies, transportation, food, community support, education or technology she has her fingers in the mix trying to make it all happen.  Mama Faraji, shown below with Mandy, is the founder and leader of the Tuleeni Orphanage.
First Drawing and Post
You can read my first drawing and post that I did about a year and a half ago on Mandy and her work with Neema here.  It was a post about happiness and purpose, something Mandy exemplifies to an awe-inspiring degree.  Among other things it shows a photo of the building below well before it was completed.
NOW
Here is the new orphanage and education building. It took years of effort from Mandy and many others but it's now complete!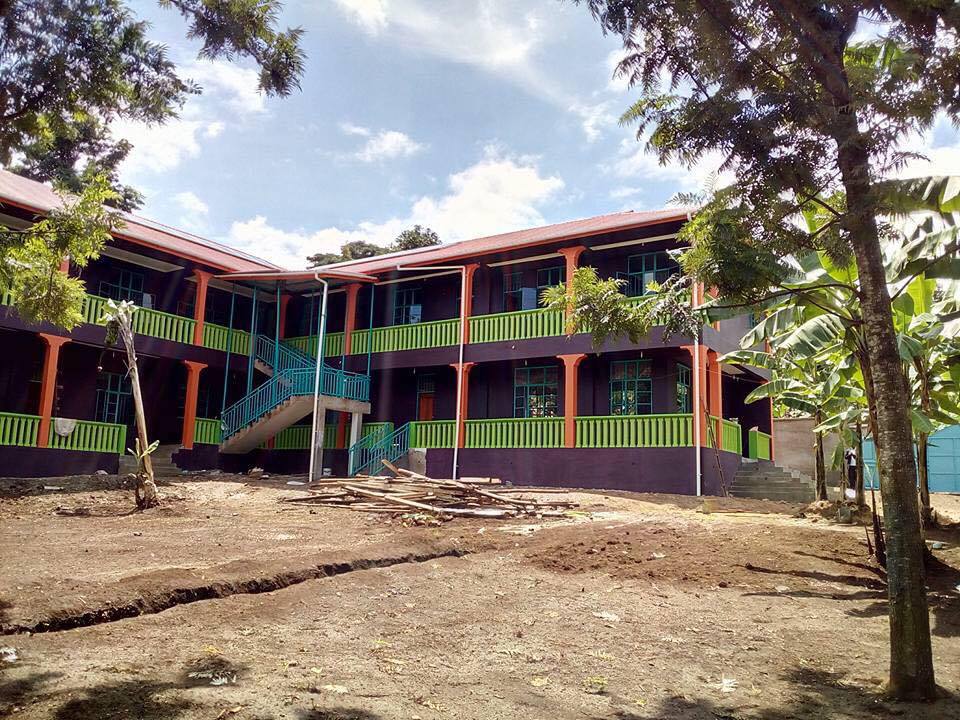 Of course, the outside is just part of the effort. The inside had to be completed too. Here are some photos of what was involved in that!
---
---
---
---
This is just a fraction of what is going on at Tuleeni.  Other efforts include:
Sending many of the orphans, especially girls, to private schools so they can get a quality education.  Girls are seriously underrepresented in the education system there and they are working hard to overcome that.
A Technology Education center for the entire village.
An Education Sponsorship program.
Love is the Purpose
I often write and illustrate at this blog that you become what you practice.  I practice art and I practice teaching/coaching and I have become pretty good at it. You are good at something too. But becoming good at something still leaves the question. WHY?  Why are you becoming good at this skill? What is the ultimate purpose behind it?
For me, the reason is to bring joy, happiness, hope, encouragement, insight, and most of all love to others.  This is the greater thing to practice because some day I might lose my ability to create or run.  But I will never lose my ability to love, right?
This is what Mandy is doing. Yes, she is building, teaching, organizing, etc. But what she is really doing is practicing love.  Help her do that, ok?
How to Help
If you would like to support Mandy, Neema International and the Tuleeni Orphanage, you can make a contribution here.  http://neemainternational.org/donate/?amount  The donations go to a registered non-profit so you can have it be a charitable donation.  Once you are at the site take some time to read about Neema and how it got started. It will warm your heart.
If you would like to contribute more directly you can do so at Paypal.  Simply send the money to mandy@neemainternational.org. This will not be tax-deductible but the money is immediately available to Neema so they can buy school and home supplies quickly and as needed.  Here are some pics that show what those sorts of donations have already bought. Plus, you are helping the local Tanzanian economy, something desperately needed.
If you're interested in becoming an education sponsor contact: info@neemainternational.org for details
Stay Connected
Here an article about Mandy and the amazing work Neema is doing.
http://thebuzzmagazines.com/articles/2016/06/making-difference-'neema'-tanzania
You can keep up with Neema International's efforts at their home on FB – https://www.facebook.com/NeemaINTL/
You can do the same for the Tuleeni Orphans Home on FB – https://www.facebook.com/tuleeniorphanshome
---
Drawing and quote © 2016 Marty Coleman | napkindad.com
---