Let's be clear and don't forget, today is day #2 of our Conscience series!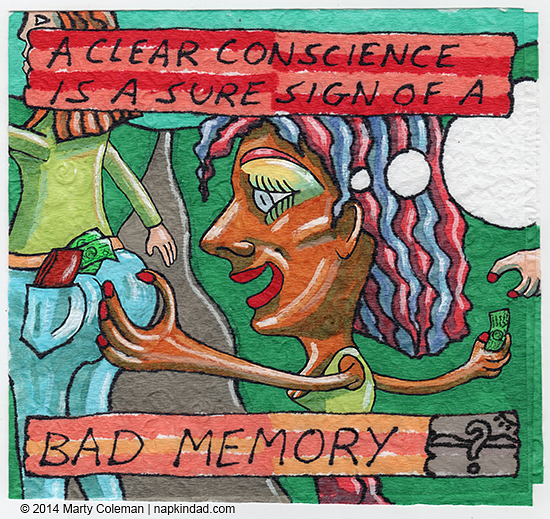 The virtue of a bad memory
This morning I happened upon a Facebook post by a muse and friend of mine, Angela Huckeby.  This is what she wrote:
Tonight's reflection:
Dates and anniversaries of sad occasions.
Sometimes I wonder if it is a coping mechanism that I have acquired after a few small tragedies, but I have no idea what date ANY of my family members passed away on… Or the dates of my divorces… And most days I can't even remember the date of my second marriage.
Selective memory, I'm sure.
Seem odd? Probably.
The thing is, I have become a master at NOT dwelling on the past. I'm sure a little bit of dwelling can be healthy, but I see so many people in absolute heartache each year over the anniversary of anything that caused them pain.
What's the purpose of such torture?
I see no point. Remember the joy and live and love in the now.
Where We Store the Big Mixing Bowl
Angela's reflections show a different side to the virtue of a bad memory than the one mentioned by the quote author, Mark Twain.  He is humorously pointing out that it's pretty convenient to forget our 'sins'.  But Angela is telling us how beneficial it is to also forget our sorrow, pain, resentments, heartaches.  
Now, the truth is we don't really forget them. What we do is put them away in the far back of a lower cabinet, as we do a big mixing bowl we only use once a year.
We know those things are there, we know we can feel them and remember them again if we want. But we have done our constant remembering, our wringing of hands and gnashing of teeth.  We are wrung out and gnashed out.  Now we know we can put the memories way out of the way and we won't lose them.  We know we can bring them out if we ever need to.
Not a Sin Excuse
There is a peace in that. If you haven't felt that peace, maybe there are some memories you need to store away. Not so you can excuse your 'sin' in the present, but so you can live and love in it.
______________________
Drawing and commentary by Marty Coleman
Quote by Mark Twain
Reflection by Angela Huckeby.  Angela and I became friends when she agreed to pose for my 'Velveteen Women' project back in 2011.  A four panel photo-collage with her as the subject was included in the exhibition at Living Arts in Tulsa in 2012.   Scroll down to see all four panels.
_________________________

________________________