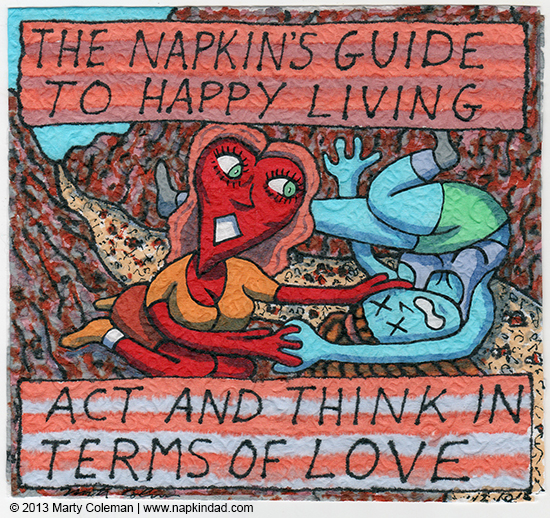 The First Responder
My daughter, Caitlin, was driving from Dallas to Tulsa, coming home for Thanksgiving, a few weeks back.  There was a car accident immediately behind her and she stopped to help. She steeled herself to perhaps see something pretty traumatic but luckily the guy wasn't really badly hurt. She went to her car, got paper towels and other stuff and helped him with his injuries.  She didn't think of her actions as being about love I don't think.  But they were.  She could have driven on. She could have just watched from a distance.  But she didn't. She chose to get involved and help him.
Acting
When I first came up with this I had it as 'Think in terms of love'. But I quickly remembered another important lesson, 'It's easier to act your way into another way of feeling than it is to feel your way into another way of acting.' and realized that many times the action of love has to come before the feeling (or thinking) of love.  The action actually leads one closer to the feeling, they compound each other.
Thinking
Even though acting is key, acting without thinking can lead to many missed opportunities. The reason is this; just as a frame around a painting changes the painting itself, how you frame what you experience changes the experience.  For example, when you see an activity, let's say a business trip, as an obligation or duty then there is a certain dread attached to it. But if you think of it as an opportunity to show love, then there is much more excitement and enthusiasm for it. 
Love to Whom?
But a business trip? How can I show love on a business trip? It's actually a great opportunity to evaluate and frame what it is you do, seeing if what you do can be categorized as love, or, if not,  can adjust your attitude or actions to be more loving? Think of all the people you meet on a business trip? Flight attendants, fellow flyers, cab drivers, hotel staff, business colleagues,  restaurant workers.  What better group of people to help you see if how you act (and think) is in terms of love?  
Happy Living
The end result of acting and thinking in terms of love is that you feel happy.  Happy with yourself, yes. But just as likely you will feel happy about the circumstances you are in as well.
And since it's impossible to live a happy life all at once, the best we can do is to have happy moments within a life. Have enough of those and at the end you will discover you've lived a happy life.  And it all starts with love.
____________
Drawing, quote and commentary by Marty Coleman
____________
The Napkin's Guide to Happy Living – Act and Think in Terms of Love