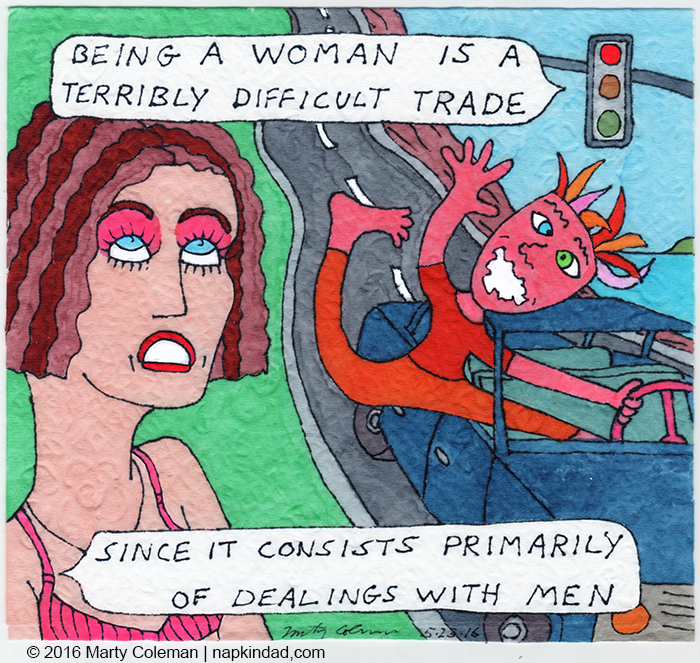 Buy the original | Buy a print
The Giant Clay Penis
When I was in High School I was in the second tier cool group. We weren't in the 'popular bad boys' group, we were the 'make everyone laugh until they blew milk out their nose' group. We were the group who would do anything funny to get attention. Once, when we were in art class and working with clay I made a giant penis. Why? Because I could and I knew everyone would think it was funny. And they did. Well, except for the teacher. She came over, grabbed the dick and folded it in two, breaking it, right in front of us. This of course made the whole thing even funnier. We seriously laughed until we couldn't breathe. I probably went to the Principals office, I don't remember. But it was worth it. 
For Girls
But who was I being funny for? I assume there had to be another guy there in the classroom that day but I would never have known. I was doing it for the girls. That's what mattered to me. And to show you my amazing gain in maturity and wisdom over the years, it's still what matters to me.
Getting Attention
But it wasn't just about being funny to get attention. It was about making plans to fight a rival at the baseball diamond across from our elementary school. It was about dancing better than some other doofus at the school dance. It was about finding some really cool shirt or pair of pants I knew would impress. It was about doing daredevil stunts.  
A Dark and Stormy Night
Once it was about walking around with a baseball bat in the dark when a girl was scared about a mystery figure supposedly lurking outside her apartment. It turns out her college roomies and she invented the story to get us boys down the street to come out and act macho for them. Sheesh, what college kids will do. I did get my one and only kiss from that girl as a result so that was cool.
They Know It When They See It
Now that I am older and wiser (depending on who you speak to) I have seen that this is a pretty universal trait. Men do funny and stupid things to impress women. I used to try to explain this to my younger female friends then I realized that women see it almost every day and don't need it explained. They know it.
That's why the eye roll was invented after all, right?
---
Drawing and commentary © 2016 Marty Coleman | napkindad.com
Quote by Joseph Conrad, 1857-1924, Polish-British Writer. Author of 'Heart of Darkness' and 'Lord Jim'.
---