This is yesterday's future napkin.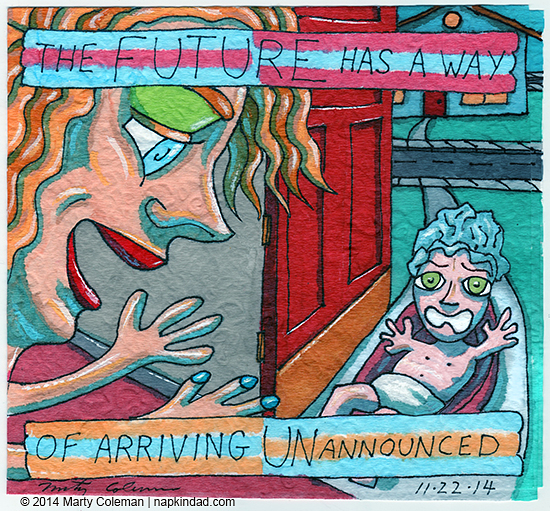 The Unannounced Life
My late father, Skeets Coleman, home from World War II, did not return to Iowa where he was raised but instead stayed in the San Diego area and operated the Del Mar Airport in the late 40s.  The secretary he hired? She, Dorothy Lee Powell, became his wife and my mother.  
My late ex-father-in-law from California, Dwight Johnson, was in military training in Vermont back in the Korean War era. He needed an ironing board and being the do-it-yourself type, he went to the local hardware/lumber yard to get a flat 1×6 piece of wood to use for that purpose.  The person who sold him the board?  She, Vivian Lambert, became his wife.  
In the 70s I transferred to UC Santa Barbara after having left a college on the East Coast. I got involved with a Student Christian group on campus.  At a Halloween party I met a girl dressed up as Pippie Longstockings.  She, Kathy Johnson, later became my wife.  
In 2000 my oldest daughter, Rebekah Coleman, left Oklahoma and went to St. John's College in Maryland.  One of the first people she met, Patrick Evans, is now her husband.  
After my divorce in 2000 I started dating via online dating services.  Unbeknownst to me a woman, Linda Reynolds, divorced a few years before, also was dating online.  We had a date and 3 years later we were married. I gained a step-daughter, Caitlin Reynolds. 
In 2011 my 2nd youngest daughter, Chelsea Coleman, moved to Berkeley to escape the cold and dreary winter in Seattle while her then husband was deployed for 6 months.  She started playing music with various people.  One person she played with, Graham Patzner, became a friend, and after her marriage ended in divorce, they started to date.  
How the Future Arrives
My point in reciting this family history is simple. To remind myself that the future arrives unannounced every day. Whether it's for good or bad, all our planning and organizing of life will never overcome that one inescapable truth.  When we understand and accept that, our lives become easier and happier.
The Result is Thanksgiving
One result of these unannounced futures is that I am now Papa Marty and Linda is MeeMee to Vivian Isabel Evans and Otis Martin Coleman-Patzner.  Another result is we are headed to Dallas for the Thanksgiving weekend to visit Caitlin and go to the Dallas Cowboys football game.
And for all those futures past, I am filled with gratitude and thanksgiving.
__________________
Drawing and commentary by Marty Coleman
Quote by George Will, 1941-not dead yet, American writer and political pundit
___________________