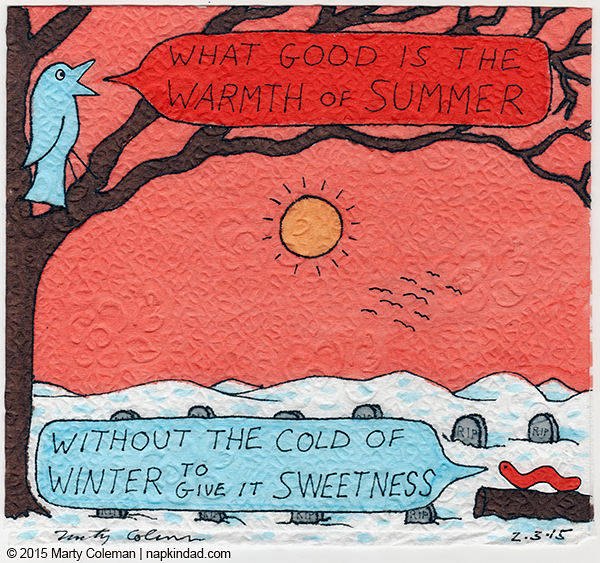 To Everything
As the song and bible passage goes, To everything there is a season. This has been a recent season of death for me. This isn't a bad thing, it's a natural thing. And no, I am not the one doing the dying, at least not in the short term. But in general I am at the age when one comes in contact with death a bit more frequently than when younger. In the past week specifically my father-in-law, Tom Reynolds, and a friend, Oren Miller, have died. A little over a month ago my Aunt Jean died. My father, Skeets Coleman, passed away less than a year ago. In addition I have a friend, Charlyn Shelton, almost die in a car wreck. On social media many of my friends have shared about their loved ones passing away as well. And so I have been thinking about death recently.
Sunny Mexico / Cold USA
Two weeks ago my wife and I took off on a vacation to Punta Mita, Mexico. It's on the Pacific Coast, just north of Puerto Vallarta. We went with her brother and sister and their spouses. It's the first vacation of it's kind we have ever taken together. On the surface it seemed like we planned it pretty well. Mexico was at 78-80º every day while almost all of the US was below freezing with ice, snow, wind, sleet and general weather misery.
Winter Brings the Sweetness
But there was more to this trip than the good timing of being in warm weather while our homes were in freezing temps. There was also this:  We all bought trip insurance because my wife's father, Tom Reynolds, wasn't doing very well. He had been battling cancer for over 12 years and it finally seemed to have got the better of him. While there was some hope, it was slim. But we made our best guess and thought it would be best to go on this trip sooner than later and so we did.
But with a day and a half to go in the vacation we got the call. He had taken a turn for the worse and was in the hospital. We did our best to figure out early flights home but it was not in the cards. That meant in spite of the situation we were going to be in Mexico one more full day, leaving the morning after that.
We had a choice to make. We could lounge around the pool and ocean, static and disconnected, giving us time to dwell on our not being able to get home, or we could go out and do something. We chose to go out and do something. We spent the day at a small beach village a few kilometers away from the resort.  We ate, we bought some gifts, we walked around the town. We found a real estate office and fantasized about buying the various houses that were pictured for sale in the window of the office. We people watched. I took a lot of photos of scenes on the street.
We hadn't forgotten about Tom, but we still had to live in our circumstances. And while we had some guilt for not being there or being able to get home right away, we also had enhanced gratitude for our lives knowing that someone we loved wasn't far from being at the end of his.  In other words, it was the winter of his life that gave a portion of sweetness to the summer of ours.
Warm Life in Winter
We did make it back on schedule and went straight to the hospital. Tom was holding his own but the overall situation wasn't looking good.  The cancer had spread to his brain, he had had seizures, his blood pressure had fallen then risen and he had contracted pneumonia. He was sedated, in no pain that we knew of, and had a ventilator doing his breathing for him.
Yesterday morning, 5 days after we returned, we got another call. His blood pressure was falling and his meds were maxed out, they couldn't adjust for that anymore. We were told to gather. With his entire family was around him those closest to him told kind and funny stories about him. They told of his passions and eccentricities.
One of the great things about his family is they were raised by him and their mother to be musical. Linda's sister taught music and choir in high school for decades. Linda had been an opera singer in her past and their brother had been in choirs as well.  And so, as we gathered around him, they started singing his favorite hymns and some of our favorites, among others. I sang in the background or hummed along as I was able. But a lifetime of them knowing how to sing with each other came out and soft transcendent harmonies of love and beauty sent him on his mysterious way.
And then he was gone.
Warmth of Life in Summer
But we aren't gone. We remain alive. We still eat and breathe and sleep. We still laugh. We still tell stories and wonder about things. We still worry about others.  We still create and talk and love.
With a loved one's passing or winter encasing us in cold we tend to see the negative, and it's hard to argue with that.  But ask yourself this: when do you most frequently hear admonitions to enjoy life, to embrace the joy and to live in the moment, to not let any opportunity pass by where you can let a loved one know (or a stranger for that matter) that you love them and are there beside them. Who do we hear that from the most? From one who has lost a loved one or almost lost their own life. It's that brush with death that brings out in them the passion for life, right?
Running Life
After Tom died yesterday we lingered around the hospital until the funeral home came to get the body. We then went to lunch. After that it was time for me to go home and shortly thereafter I went to my job coaching runners. It was my first run in almost 2 weeks (I slacked off in Mexico, don't judge). It was cold, foggy, misty and a bit windy. And I loved it. I loved it because I was alive to love it.
What and who are you alive to love?
---
Drawing and commentary by Marty Coleman
Quote by John Steinbeck, 'Travels with Charley – In Search of America'
---
This and any other napkin not already sold is available for purchase. Email me at marty@napkindad.com to inquire.
"What good is the warmth of summer without the cold of winter to give it sweetness."