I hope you survive day #2 of Wealth Week!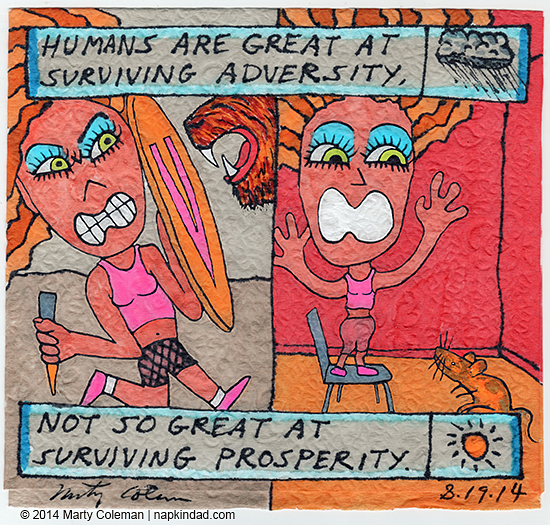 The Good Old Poor Days
One of the things you can be most confident of when listening to an older couple talk about their lives together is that there will eventually be a moment in the story telling when one of them says, "We had nothing and were broke almost all the time, but we had love and fun in our household."  It's not a universal, and there are people who will also say those days were terrible.  But many will look back fondly on having overcome the adversity of little money, a crappy apartment, a lousy first job, or any number of other things that can befall us. 
When my first wife and I started our family we lived in a pretty crappy 90 year old rental home in downtown San Jose, California. There was 2 bedrooms, one bathroom, a pretty ugly backyard. We had mostly hand-me-down furniture and inexpensive or handmade clothing and other items around the house.  The 3 girls all lived in the same room. I worked 3 jobs, my wife worked one on and off, and we barely made ends meet. But still it worked out pretty well, the kids were happy and we enjoyed our lives.
The Bad New Rich Days
We moved to Oklahoma in 1994 when I got a new job. The cost of living was SO LOW that we were able to buy a big 4 bedroom house for the same price we were paying rent.  We weren't wealthy by any means, but we certainly were prospering compared to back in San Jose.  And with that came not more satisfaction, but more dissatisfaction.  My wife reached her relationship breaking point with me within a few years of being in Tulsa and the marriage broke apart as a result.  
There were other elements to the break up besides money, but my wife especially was more than a little uncomfortable with a bigger house in the suburbs and all that went with it. As a matter of fact, when we separated she bought a very small house much more like the one we had in San Jose than the bigger suburban house were were living in.   This was partly due to finances of course, but it was also the type of house she had mentioned she wanted many times as we drove around the Tulsa area in the years before our split.
Question:
Why is it that many of us have such a hard time with prosperity? What is it that happens to make us more dissatisfied when logically everything should be pointing us to a greater level of satisfaction?
______________________
Drawing and commentary by Marty Coleman
Quote is mine and is an interpretation of a longer quote by Alan Gregg
______________________
"Humans are great at surviving adversity, not so great at surviving prosperity"