I hope I become a famous celebrity for posting Napkin #3 of Heroes Week!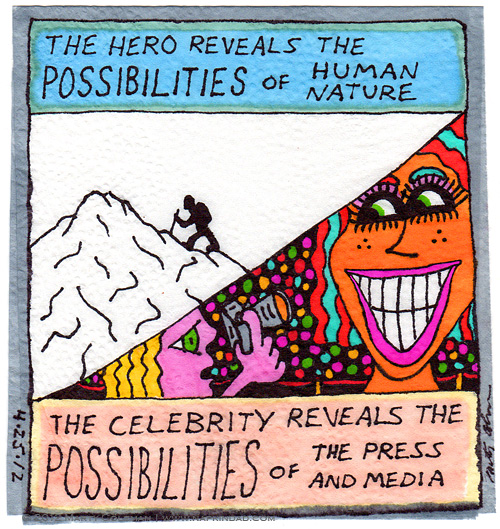 Autographs, Please
I remember reading an article in Flying magazine once about my father.  The article was about his exploits as a test pilot in the 1950s, for which he became quite famous. He was famous for a brief while among the general population and has had continued fame within the aviation community ever since.  Still, to this day, I get regular inquiries and requests to interview him, visit him, have autographed photos of him sent. I sent one to Scotland a few years back.
Legend in Residence
The article started out talking about how the author met my father.  He met him when my father was hired to be Publisher of Business and Commercial Aviation Magazine.  But that is not what the author said. He said he met him when my father was hired to be 'Legend in Residence' (or something close, the exact words escape me right now).  I understand that when you are very high up in business they are often hiring your reputation, not just you.  They wanted the cache of saying they had a legendary aviator at the helm. It gave their enterprise gravitas and authority.  I get that.  
Celebrity vs Substance
At the same time it did seem, in my eyes, to diminish his accomplishments during the rest of his career in aviation.  He didn't just fly one amazing test flight and then do nothing. He had also been a fighter/bomber pilot in WWII, an airport owner, a salesman of high end corporate jets, a corporal in the Marine Reserves, an inventor and innovator in aviation equipment and airplanes.  And he was now at the helm of a very important and influential magazine in his industry.  None of those things brought him the fame of his test pilot exploits, and rightly so. The test flights he took were legendary and they deserved to be. As a matter of fact, as the years past his flights are seen in higher regard not lower.  The farther we get from the time of the flights the more amazing it seems his accomplishments were.  But his other endeavors were valuable, good and worthy of recognition. They proved him to be a man of substance throughout his life, not just an aviation celebrity for one event.
I started this out not knowing it would turn into an essay about my father.  But his life is the root of my personal understanding of both hero and celebrity.  I like that he was both and I like that he always knew the difference.
XFY-1 POGO
Here is a 1955 promotional film  that shows what exactly what it was that my father flew in the test fights I have been mentioning.  I think you will be impressed.
Here is another, shorter video. The volume is very low so you'll have to turn it up to hear the voiceover.
_____________________________________________
Kindle