My iPhone was burning down the batteries very quickly over the past week during my trip to New York.  Something was up with it and it finally went kaput, really kaput, while waiting for my flight home from New York City. As a result I spent a lot of time observing and drawing, both on napkins and in my sketchbook. Here are some of the interesting people I drew and got to know.
Karen
On the way home from my week in New York City I sat next to a woman who reminded me a bit of Susan Sarandon.  Her eyes were similar but it was really her voice, having the same tone and inflection, that made me feel like I was listening to the actress.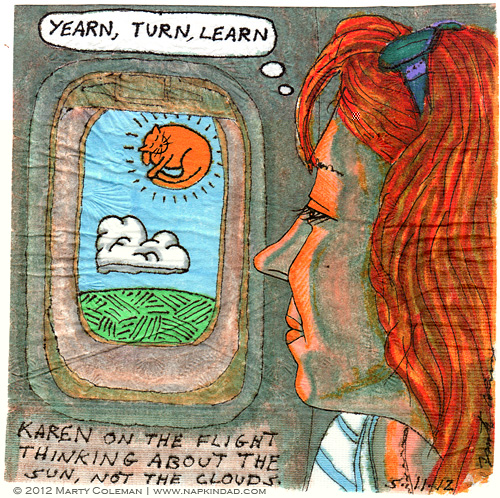 Karen had gone to the city for the first time to have a girl's weekend with some friends.  She is a world traveler yet had never been to NYC. She loved the city, could live there easily she said (I feel the same way after my stay). But after a weekend of eating, drinking, sightseeing and walking she was ready to get home to San Diego.  She missed her cat. She was a very interesting person to sit next to.
__________________________
Jasmine
Before I got on the plane I spent 5 hours waiting at LaGuardia Airport (long story).  I sat for 2 of those hours across from this woman, Jasmine.  She slept in this position for a long time.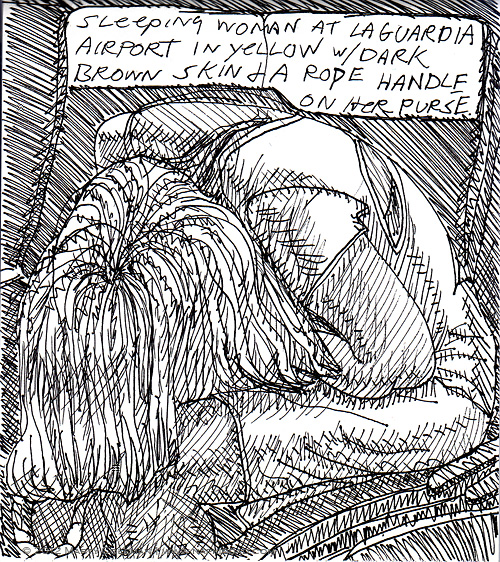 After a while we realized there should be more people around and found out the gates had changed.  We traipsed over to the new gate together.  Turns out she was also in NYC for a weekend of fun. She said she had a lot of it.  She showed me some photos of her time in NYC, a lot of pictures of her and her friend mugging for the camera, a concert and more self-portraits.  She wore bright red lipstick in some and bright pink lipstick in others.  She was now very tired and very hungover and was also glad to be headed home.  She was a very interesting person to wait with.
____________________
Mother and Daughter and Dog
Before Jasmine showed up I was entertained by a mother and daughter sitting across and down from me waiting for a different flight.  They had a teeny weenie little dog with bulging eyes who continually peeked out from under the mother's arm.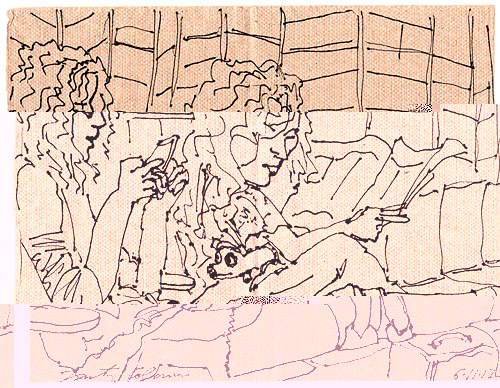 The daughter had bright hot pink shorts, brilliant yellow socks and a big knee brace.  She played on her iPhone for well over an hour without moving. The mother had on a lacy, Stevie Nicks type of black dress on.  The dog blended in under the crook of her arm until it would open it's eyes REALLY wide and look around.  Then it would fall asleep again and disappear into the folds of her dress.  They were very interesting people to observe.
________________________
Drawings by Marty Coleman, who loves to draw when he travels.
Kindle