Blog World New York 2012
I got back from Blog World New York 2012 a few days ago. I have been busy catching up on work, clients, fixing things, Dr. appts, etc.  Now I am ready to think about what it was like; what I taught, what I learned, who I met, what I experienced.  I thought I would combine that with a couple napkin drawings on some of the social media secrets I have come to understand over the past few years of working in this field.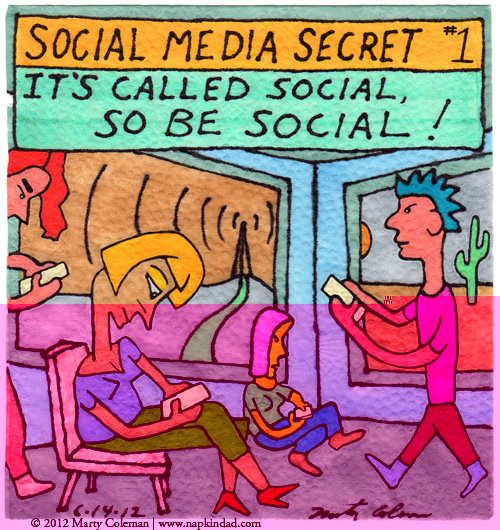 Present/Distant
For all the talk about 'social media' there is a tendency for social media types to spend more time talking to people not present than those that are right in front of them. It can lead to great online connections that never go anywhere because you don't actually find a way to personally interact with the person.
Now, that makes complete sense when you never have the opportunity to meet face to face. But when you go to a conference or gathering that includes people you have met and interacted with online, it's important to actually be social and introduce yourself to them.  Even if you have met them before, it's a good idea to reintroduce yourself.  Build the relationship in person, even if it is just a brief conversation in the hall between sessions.  In some ways it's awkward because it similar to introducing yourself to a celebrity.  You don't know if they will know who you are, if they will remember you, if they will be annoyed by you interrupting their day. But the truth is they are probably thinking about you the same way.  
Jason Falls
For example, I knew Jason Falls would be at Blog World NY. I was able to go to his book launch (No Bullshit Social Media) at Blog World LA.  I didn't meet him then but over the past 6 months I have interacted with him on his blog, Twitter, Facebook and probably some other Social Media sites as well.  I wasn't sure if he would know who I was but when I saw him relaxing at a table with some other conference goers I went over and introduced myself. He remembered me from some of the online interactions and we had a brief conversation.  It felt good to meet him.
After the conference he posted a message about how one of the things he loves most about going to conferences is the chance to meet his online friends in person. He actually singled me out as an example of that.  That was cool, it made me feel like someone I respect in the field had been paying attention to my interactions and was equally happy to finally meet in person.
The Original Media
When you are in the social media world, in whatever capacity, you have to implement the 'social' no matter the media.  Media is just a method of communicating.  Radio, internet, TV, megaphone – it's all media.  But before all that, you have the first and most essential of media, your voice and your handshake.  Use it often if you really want to complete your social media involvement.
____________________________
Drawing by Marty Coleman, who really should read Jason's book.
____________________________
Kindle