This morning I was interviewed at our local 'Aunt Bea's Cafe (really) in Glenpool by Michelle Linn from a local news station, Fox23.  They are doing an 'on the road' series all summer and this week they are in my town of Glenpool.  In anticipation of the breakfast get together I chose a reporter oriented quote to illustrate on my napkin. It turned out to be the first of what will be a series of Reporter's Lessons.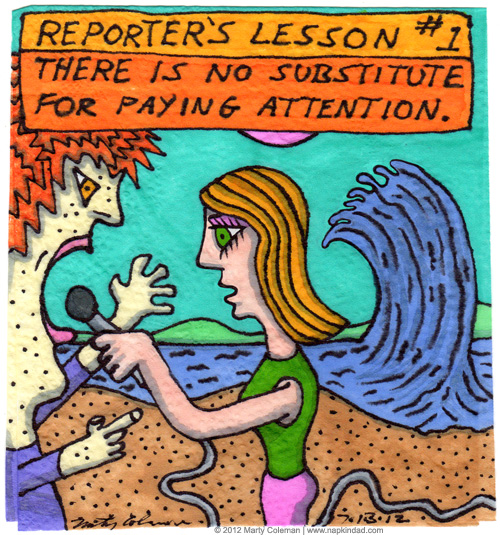 Multi-tasking Attention
Here's what is funny about this. I chose it randomly, just a cool quote about reporters as far as I was concerned. But when I got to the cafe Michelle and her crew, Rose and Wes, were pretty active, working out when what segment would air when, how long it would be, where they would be sitting, etc.  They were on a break while they were doing this and people kept coming up to Michelle wanting to introduce themselves. One guy wanted to speak with her privately outside. She went and when she came back she said it they wanted a story done on a relative and what might have happened to him.  She had the director of the Glenpool Chamber and the Director of the the Glenpool Conference Center there as well. Plus the place was filled with diners. There was a LOT for her to pay attention to.
The overheard balloon comment
Eventually she sat down with us, told me she would be doing a tease, then an interview for a few minutes.  We had met before (I did a photo shoot of her for my 'IN Public|Private' photo-collage series about reporters and anchors recently) so we were just shooting the breeze about things. My wife, Linda, was there and I was explaining to Linda that Michelle had FOUR young children. Michelle told of how she was basically pregnant or nursing for almost 8 years.  She referenced a prior conversation where we had been talking about balloons and she said that is what her life was like, blowing up like a balloon again and again, gaining X amount of weight, then losing it, etc.  Right then her and her crew saw me and her on the TV overhead. The scene was dark since the camera light wasn't on, but there we were talking about her pregnancies on live TV. OOPS!  The control room back at the station cut away quickly, but not before the audience heard a nice telling of her weight gain and loss. OOPS.  We all laughed about it and were just glad the conversation had not gone in any of many directions it could have gone that wouldn't have been as PG as where it did go! 'Oy Vey' as Michelle tweeted.
It turned out my napkin was the perfect one for the day. It's important for the reporter to pay attention, but even more important for them to be able to go with the flow (or tidal wave) as events develop.  Michelle had a great sense of humor about it, just as one would hope. Here is a pic of the two of us with the partially drawn napkin.
Tomorrow I will post the video segment they did on The Napkin Dad that aired the night before.
__________________
Drawing by Marty Coleman, who always could pay better attention!
Quote by Diane Sawyer, the evening news anchor for ABC News.
___________________
Kindle