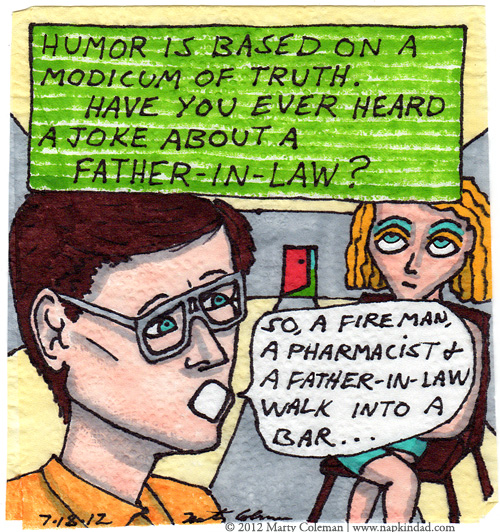 Setback
In 1980 Kathy and I moved to Michigan from our little apartment in San Francisco so I could attend Graduate School in Printmaking.  A year later we moved back to the bay area, me having not been admitted to a second year at Cranbrook Academy of Art.  That is it's own story of course, one that had reasons, excuses, shortcomings, personality conflicts, artistic immaturity and all sorts of other things behind it. I will tell that story another day.
We were broke and had to decide whether we would move to San Diego and live with my parents or to San Jose and live with Kathy's parents.  We chose Kathy's parents.  We decided we would stay with them for a few months, get back on our feet and that would be that.  Almost a year later we finally moved out of their house.  This was a crucible year and the fire fused me to Dwight in wonderful ways.
Dwight and Vivian had a beautiful home in the Almaden Valley area of the San Jose (located at the southern end of the San Francisco Bay) in the shadow of the Santa Cruz Mountains.  It really was an idyllic spot.  We settled in and I started looking for work.  I landed a job at a restaurant and started to apply again to Art graduate schools. Dwight was working at IBM as a senior research engineer. 
Living Together
You know how sometimes some women are attracted to a man who is like their father and other women will be attracted to a man who is almost the exact opposite of her father? Well, Kathy was in the latter category. When she married me, she married the 'anti-Dwight'.  Where Dwight was shy, quiet, and  humble I was extroverted, loud and … not humble.  Where Dwight was a nerd engineer with glasses and a pocket protector with mechanical pencils in it, I was a hipster artist with a snappy driving cap, a hawaiian shirt and a charcoal pencil.  Where Dwight was a life-long Christian in the mainline Presbyterian church, I was a late blooming non-denominational Jesus movement baby from the 70s in LA.  Where Dwight was non-confrontational and unassertive, I was a button pusher and perhaps a tad bit assertive. You get the idea – it would appear that we were an oil and water combination.
That meant living together was … interesting.  An example; Dwight would ask at the dinner table if someone wanted the last roll, or the last whatever. I would think, and sometimes say, 'Do you want the roll Dwight?'  Dwight would say, 'I guess I do.'  He said that a lot. I would say, 'Are you guessing or are you SURE?'  Another example; Dwight would want help fixing a car, something I thought had a time limit attached to it. But after 5-6 hours of fixing it, with no end in sight, I would think, and sometimes say, 'Dwight, maybe we should get an ice tea and chill for a bit.  This was something Dwight did not comprehend, unless by 'a little bit' I meant 5 minutes. Of course, what I meant by 'a little bit' was until tomorrow or the next day or maybe never.  
You can imagine I was a bit of a fly in the Johnson ointment.  His hard-core drive to fill every minute with some purposeful activity rubbed up against my hard-core drive to find the interest, beauty, and idea behind things.  The Johnson family belief that to have  no conflict was a good thing rubbed up against my family tradition of arguing things out (and sometimes just arguing, not working anything out).  Dwight the logical, grounded engineer rubbed up against me, the passionate, dreaming artist. In other words, this time of us living with Dwight and Vivian had disaster written all over it.  
A Disaster Averted
But a disaster didn't happen.  What happened instead, over the course of that year and beyond, was me being taken under Dwight's wing, in spite of my being so different than he was.  When I did my button pushing and making fun, he responded not with bristling ego, but with a guileless, 'water off the back of a duck' resilience.  He didn't take offense. Instead he saw me, not as a threat, but as someone who was not purposely trying to hurt or offend anyone, just a young guy with a lot to learn about life.  I started to appreciate that quite a bit during that year.
There was something else going on during that year as well. And that was what I was bringing to the table.  I wasn't just a negative Dwight had to work around. One of the nicest things he did was show an interest in my world of art when he had virtually no background in it at all. He would love to find  interesting articles (he was a great article saver and giver) about art to talk about with me.  If he heard something on the radio, he would bring it up and we would talk about it. He was genuinely interested in who I was and what I did.  In witnessing my work as an artist he started to see that there was maybe a bit more to life than just functionality.  He started to see how he could not just have the perfect film exposure in his camera, but have an interesting visual composition as well.  That aesthetics were something interesting and worthy of admiration and contemplation.  Don't get me wrong, he would still be much more interested in how blue paint dried on a canvas than the emotion associated with the color blue, but he understood that the world of art could allow one to enter into the world of ideas and he enjoyed that immensely.
After about 11 months living on Landerwood Lane Kathy and I moved to downtown San Jose and I started graduate school at San Jose State University.  I have no doubt Dwight and Vivian were happy to have their house back to themselves, but we weren't far away and the relationship between Dwight and me, tested and tried during that year, continued and blossomed for many more.
I look back now, from the viewpoint of being an older man than he was during that year, and I really do nothing but marvel at the gift I was given by that man.
_________________________
Chapter Two – Living Together
Next up – Chapter Three – Grandkids
_________________________
Drawing by Marty Coleman
Quote by Dick Clark
Kindle