Is it any wonder I chose to draw on this topic today?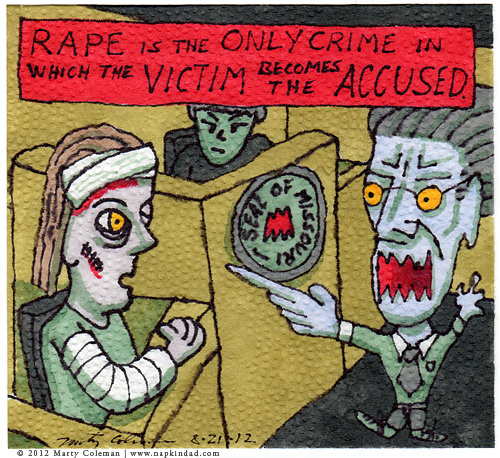 The Danger of Dumb
We now know Rep. Akin of Missouri is ignorant of science and biology. We also now know he is on the science committee in the US Congress.  We know he is unqualified to be on that committee since he currently believes (because some unnamed doctor told him) that women who are legitimately raped, oh sorry, let's use the word 'forcibly', it's so much better, have a magic secret army of anti-spermbots who keep her from getting pregnant.  He also uses this untrue statement to back up his political agenda of banning all abortions in all circumstances, including rape and incest. In my opinion, there is no doubt he should resign from Congress because of this exposure of his warped and dangerous thinking, and if he does not, he should be voted out by his constituents in Missouri.  I am also hopeful they would not vote for him to represent them in the US Senate, a seat for which he is currently campaigning.
Intent vs Effect
Now, I do not know this man personally. Yesterday, I heard from a personal friend of his for over 15 years who said he is a wonderful man and would never say or do anything intentionally to harm women.  And yet, he is intentionally pursuing laws that would make it illegal for the raped woman I have depicted above to have an abortion.  He is saying that the life of the zygote/embryo/fetus (depending on how far along the pregnancy is) and it's possible feeling of pain and suffering is more important than the emotional, psychological, and physical pain and suffering the raped woman is feeling now and will most likely feel for many years to come.  In this case it is a woman beaten and raped then made to testify at a trial at which she is herself accused of leading the man on, of having had multiple sex partners, of having worn something provocative, of having had something to drink, of having flirted, of, in essence, being responsible for her own rape.  The defense attorney is trying to persuade a jury it was her fault.  This is the woman we are talking about in many cases.
He wants to take away her decision about what to do about her pregnancy away from her and give it to the state. The same state he says should stay out of our personal lives.  To me that is intentionally and willfully deciding to use his power as an agent for the state to increase the pain and suffering of this woman by denying her  the right to choose what she will do with her body, her pregnancy and the zygote/embryo/fetus inside her womb.
What Would I Do
As the father of 4 grown daughters I would very likely advise one of them who got pregnant to carry it to term. I would not want one of them to have an abortion in most cases. But the final decision is not up to me. It is not up to Rep. Akins and it is not up to the state. It would be up to my daughter. No matter the circumstances, she is the only one, if we truly believe in liberty and freedom, who has the right to make the choice about what happens to her own body. 
I know there are many who disagree with me politically on this. I am fine with that disagreement and consider those who do disagree intelligently to be worthy adversaries in the world of ideas and practices.  But Rep. Akin and those who feel and think as he does are not just those of a different opinion. They are dangerous in their ignorant, anti-scientific and mean-spirited assault on women and should be stopped.
________________________
Drawing and commentary by Marty Coleman, an American. 
Quote by Freda Adler 
Kindle