It's a different kind of labor day in my mind today.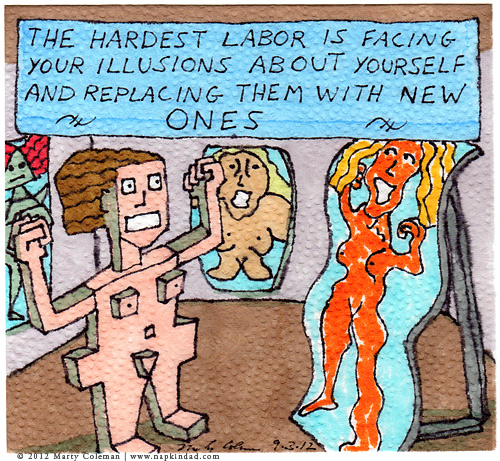 Illusions of Your Self
Have you ever had a moment when you realized you weren't who you thought you were? Maybe you thought you were a paragon of moral virtue then found yourself having an affair.  Maybe you thought you were heroic and brave only to find out when something dangerous happened you became a coward.  Maybe you thought you were dowdy and prudish but later realized you were sexy and alluring.  
How did these revelations come about?  Sometimes they were forced upon you by circumstances.  Other times it was someone who said something that allowed that new way of seeing yourself to come about.  Maybe it was a book or a movie or the death of someone you loved.  Whatever it was, it led you to believe you had a new identity.  It was good perhaps, or maybe it was depressing to find this new you inhabiting your body.
The Real You, Distorted
But at least now you know the real you, right?  Maybe our goal shouldn't be to know the 'real' self. Maybe it should be to realize we have always been our real self, only slightly distorted, like in a fun house mirror. Maybe our goal should be to collect all those mirrors and look at all the multiple distortions honestly and clearly. Perhaps then we will see ourselves most accurately.
How do we do this?  I like the idea of making a list of all my identities.  Going all the way back to when you were young, who have you seen yourself as? I bet we would discover a lot, don't you think?
_________________________
Drawing and quote by Marty Coleman
_________________________
Kindle