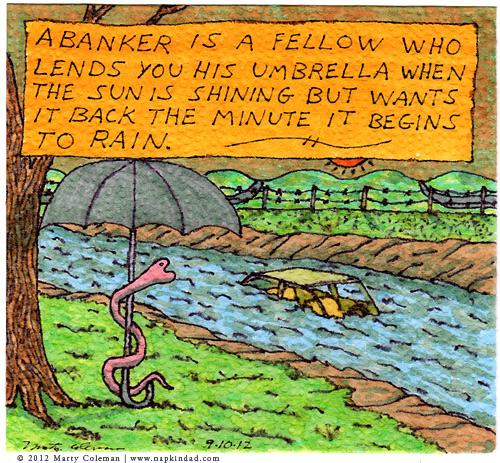 Banking on Care
I am not against bankers and I am not against banks.  But I am against them saying they are one thing when they actually are another.  Just like any other business, they, as a corporation, are not set up to care about you. They are set up to make money for their shareholders. That is what drives them and sustains their operations.  If they don't do that, the bosses lose their jobs and so do a lot of other people. That is how banks, insurance companies and other 'service' industry businesses work.
But what about when they say they care about you?  The individuals in that bank or insurance company may indeed care about you for no other reason but that they do.  But the company itself? It does not care about you in the same way.  It cares about you as a paying customer, as a PR help, as a problem, as an easy mark, as a taker who isn't making them much money, or any number of other designations.  But the company itself doesn't care about you.  
Care in the Corner Office
The higher up the person in that company is, the less they can care about you. This is not because they are money grubbing capitalists.  They might be giving away a ton of money to charity. They might be caring for their entire extended family.  Then again, they might be money grubbing.  But, even if the higher ups have a heart of gold, they are unlikely to care about you. Why? Because they don't have contact with you.  The higher up they are the more contact they have with the shareholders, not you.  The shareholders care about you as a vehicle for them to make money.  It sounds severe and cold and mean. But it isn't. It's just the way companies work.
Care is not a product
What matters isn't if they care or not, it's if the product they sell helps you or not.  Their ads, their PR, their front man or woman in the branch office may all say we care, but since we aren't naive enough to believe that, all that really matters is whether you are getting what you pay for.  Pay attention to that and you won't be under false expectations and let down when the truth comes out: they don't care about you.
____________________
Drawing by Marty Coleman
Quote by Mark Twain
____________________
Kindle