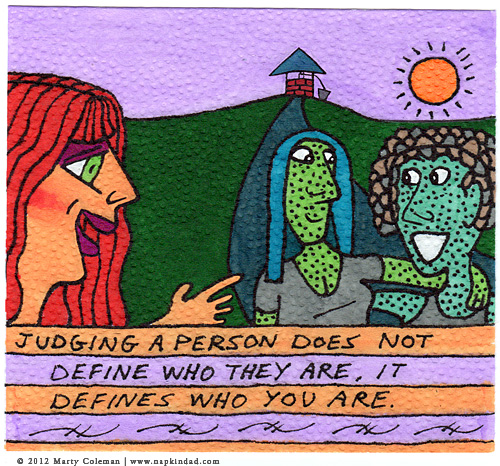 Raising Kids and Others
One of the big elements of raising healthy kids and helping others grow up into adulthood is to help them understand the true nature of judgment.  Kids learn about judgment early on. After all, school is actually more about judgment and placing people in slots of acceptability than it is about formal education.  
Consider the Source
I mentioned a number of months ago that my ex-father in law, Dwight Johnson, passed away. I went to the memorial service and spoke briefly at the reception about what he meant to me. One of my favorite lines he used to say was, 'I just consider the source.'  He was usually referring to me having said some sarcastic remark at his expense. It was his way of saying, 'Marty's judgment says way more about him than it does about me so I don't worry about it.' He was a wise man.
Are You Vulnerable?
I have a friend who is very, very modest. She is working through why that is, and basically it comes down to feeling vulnerable. Now, my definition of vulnerable is about being at a high risk of something bad happening.  She feels that the bad thing that might happen is that someone might say something negative about her body.  And the truth is, there is that risk.  She is sensitive and it hurts when it happens, whether the person is a jerk commenting on her appearance or figure, or an innocent family member who isn't even old enough to know how to hurt someone on purpose saying something funny in her bedroom as she changes into her work clothes.  So, how does she overcome that?  I would tell her to contemplate the napkin quote.  Is the comment exposing something about the person saying it, not the person it is directed to?  The first person can be blown off as a jerk, easy enough.  The second person's comment, while not being blown off in the same way, can be at least understood as not being purposely hurtful. And think about it, aren't most judgments coming from one or the other, either a jerk meaning harm or an innocent meaning no harm? If that is the case, then the only ones you really need to worry about are the judgments in between.  
The Judgments in Between
What judgments are in between?  What judgments are left? Maybe ones you can contemplate and decide for yourself if you agree with them.  For example, someone says, 'That hairstyle makes your face look long.'  Consider it. Does it? Do you mind that it does? Do you see something you hadn't realized before and maybe agree with?  No, you don't? Then easy enough, you disregard the judgment/comment and go on your way.  You do agree? Then easy enough, next time you change your hairstyle you consider styles that don't make your face look long.  In other words, it really becomes your own judgment, your own observation. It's no longer seen as something hurtful or mean or anything like that. It's just an observation, neutral in judgment, that you can consider as if it were your own observation.
___________________________
Drawing and commentary by Marty Coleman
Quote by Anonymous
___________________________
Kindle