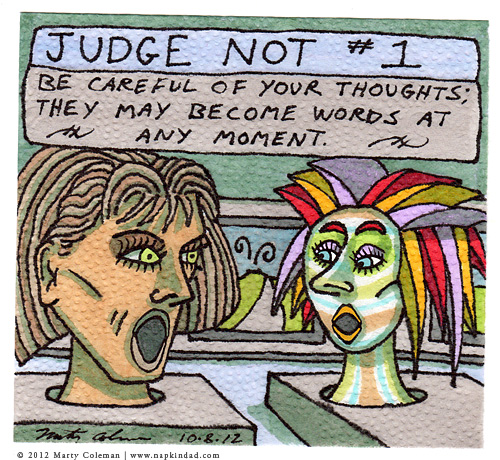 The Judgment Stop Sign
I spoke at a 4H conference this past week and even though my talk wasn't specifically about judgment I found myself returning to it again and again during the talk and in conversations afterwards.  I was speaking on things that stop you from becoming who you want to be, and judgment is one of the big ones.
Why does judgment stop us? Because it stops consideration.  Judgment is a decision about something.  Of course, we need judgment to make wise decisions, to make moral or ethical decisions.  But many of our judgments in life have nothing to do with those things. They don't protect us from danger or destruction, they blind us to possibilities and joy.
The Judgment Response
Judgment is in our thoughts first of course, before it becomes words.  What do we get out of judgment thinking?  We get security for one.  We know what is right and what is wrong and that is the essence of security.  We get superiority and superiority gives a feeling of security as well. I am better than the person I am judging; I look better, speak better, sound better, care more and others see me as better.  What else do we get out of judging?
Then we go from thinking to speaking judgment.  What do we get out of judgment speaking?  We get is validation.  We get supporters, troops and weaponry.  We get the ability to kill.  This sounds great if you are in a war.  But are you in a war?  Do you want your life to be about fighting and judging? Can you pay attention to the beauty and wonder of the world and the people in it if you are always busy either attacking in judgment or preparing for judgment battle?  
The Not Knot
Moving towards, and becoming practiced at, judging not can indeed be a knot that is not easy to untie.  What steps can we take to untie the knot?
_______________
Drawing by Marty Coleman
Quote by Ira Gassen
Kindle