I am flush with excitement over my first colonoscopy tomorrow!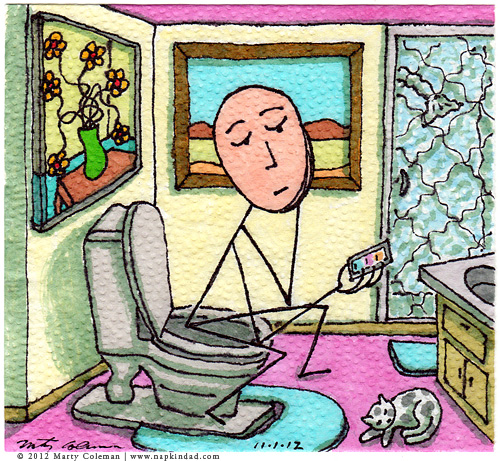 The Long & Winding Road
Yes, I am getting a colonoscopy tomorrow.  It isn't due to any issues, just part of my annual physical.  My last annual physical was 7 or so years ago and I didn't have a colonoscopy that time around.  My wife has been insisting I do this for many many years and finally it is being done.
Polyp Want a Cracker?
The fun part of this is today, or so I have heard. Today I get to be on a liquid diet all day (but that includes jello so all is right with the world). In the afternoon I take a magic elixir of frog brains and newt tongue and it will miraculously make my escape tunnel be all clear.  Tomorrow the guy in the white coat and some other people in other colored clothing will search the same tunnel to see if there is anything for them, or me, to worry about.  This is most likely going to consist of either nothing or little protuberances called polyps.  This polyps are sort of like the weird fish in the aquarium that stay in the sand at the bottom and poke their heads out just a little bit to get little teeny weenie things to eat.  If they find some of these pokey outey things they will snip them off with an official mini-snipper. 
The Big Soft Hammer
The bad news would be if they found something bigger, like a tumor. Then they would tell me I need to get it taken out with something bigger than the official mini-snipper.  That would suck so let's hope that doesn't happen.  I won't know what they found until later because I will be knocked out by the knocker outer person. They use a big, but soft, hammer to do it I have been told.  
Loopy Is as Loopy Does
They said I will be loopy and will need someone to drive me home.  My wife, Linda, will do that and laugh at me all the way home because I will say things like, 'so, I think a horse would make a good tattoo for me on my face' or 'should we stop at the red cross and donate some pencils? Then I get to go home and do nothing in my loopy state except watch TV. I am only suppose to watch loopy shows though, so it will all make sense and I won't freak out. Above you can see an accurate rendition of what I am expecting to look like this afternoon. Fun.
__________________
Drawing and commentary by Marty Coleman, who was last knocked out for a medical procedure in 1975 when I got me wisdom teeth taken out.
__________________
Kindle