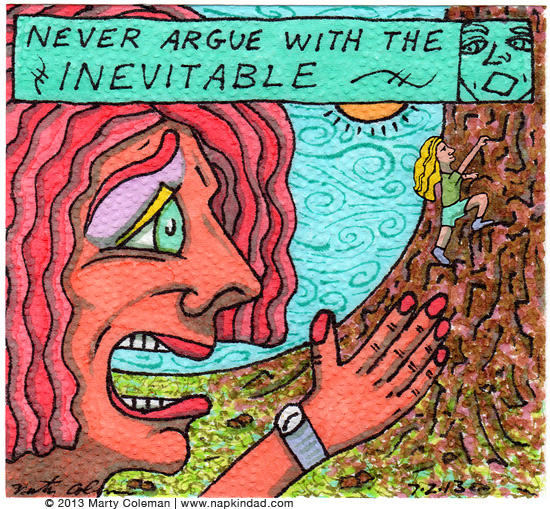 Why Not Argue?
I am not a fatalist. I do not believe that most things are set in stone, inevitable.  I believe we have the power to change things, change ourselves, change our future.  But…
I remember when Kathy, my first wife, and I were going through the last spasms of our marriage. We had marriage counseling, relationship retreats and spiritual regeneration weekends.  We had conversation after conversations after conversation about our marriage, ourselves, each other, our personalities, our dreams for the future, etc.  She was the one considering a divorce but she said many times that just because she was considering it did not mean it was inevitable. 
The Optimist
At one point I went to a counselor and she went to the first meeting with me.  After the therapist met and talked with both of us I had a solo meeting with him.  I talked a lot about how to save the marriage.  He listened for a while but stopped me pretty soon and said he did not really want to talk about that. He wanted to talk about what I was going to do if the divorce did happen. What was I going to do to make sure I remained healthy in mind, spirit and body?  What did my future as a single parent, as a single adult, look like?  We talked about all that but it pissed me off because I felt like he was not allowing that the possibility existed that the divorce may not happen.
Not long after, we got divorced.  Then I understood. He saw what I couldn't or wouldn't.  He saw that Kathy had made up her mind, that the divorce was going to happen and I was not going to be able to stop it.  He was guiding me to what he knew was going to be my inevitable life, not indulging me in a fantasy about my hoped for life.
The Realist
I am by no means a fatalist in my own life or in the lives of others.  But what I am now more than I used to be is a realist.  I know there does come a time when you have to bow to the inevitable.  It is hard to do but the alternative is to escape reality, and escaping reality never ends well. Whether it's drinking yourself silly, going on a control-freak rampage, or slipping into irrational psychosis or neurosis, escaping reality does not change the reality (except to make it worse) nor does it solve any problems you are going to have in your new reality.
Face It
So, as hard as it is, the only true path to take is directly into the path of the inevitable.  It does not mean you do not look at the alternative paths into the future, but you accept when paths are closed and you choose from the paths that remain open to you.
____________
Drawing and commentary by Marty Coleman
___________