If you're my friend, you'll read #3 in my Persuasion series. If you aren't my friend yet, I hope that changes soon!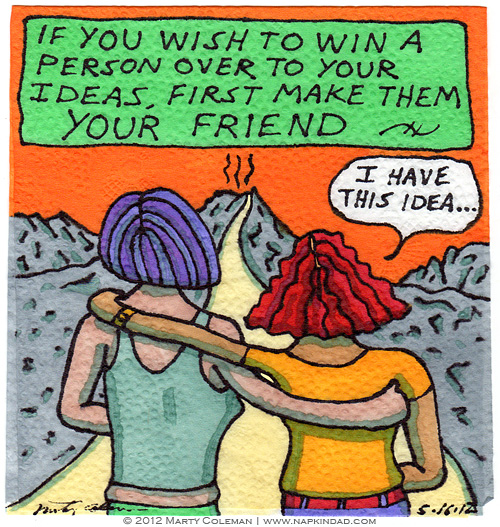 Have you ever planned a grand adventure with a stranger? Have you ever decided to do something scary, maybe even dangerous, because a stranger asked you to? Not likely. It usually takes a friend to convince us to do crazy things.
It also usually takes a friend if we are going to be persuaded to believe something new, something opposite of what we might have believed in the past. Whether it's ideas about the universe and God (or no God), politics, cultural affairs or even science, we are much more likely to consider new ideas if it is a friend who sets the idea before us.
Are wanting to be influential? Be a friend first.
__________________________
Drawing and commentary by Marty Coleman, who is a friendly fellow and has yet to be President.
Quote by Abraham Lincoln, who was a friendly fellow and was President.
__________________________