I know today will whoosh right by, but stop and smell the procrastination, won't you?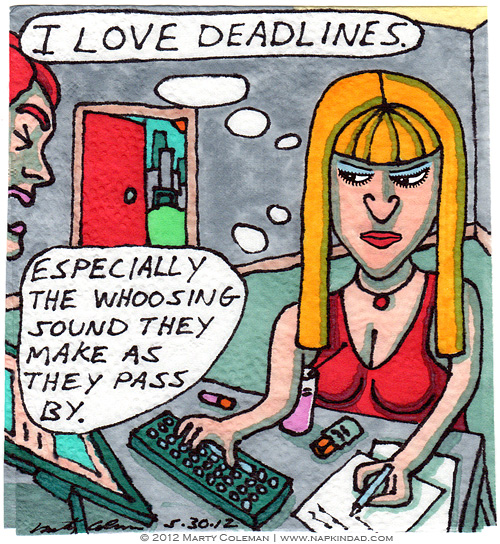 Expect the Unexpected
As I have gotten older I increasingly am aware of how many things can go wrong at the last minute of a project or upcoming event.  As a result I really do try to get organized and prepared with plenty of time. And even WITH that mindset I am always seeming to be down to the wire in my preparations. 
I am expecting it to be the same with my presentation on procrastination and content creation at Blog World next week (Wed. June 6th). This is drawing #5 of the procrastination part, but it will include a lot more I still need to get together.  I hope I don't have too many interruptions but if I do I at least feel I have a strong foundation prepared. We shall see!
It's about Respect
Here is what I am thinking about today to include in my presentation.  The act of being deliberate in your content creation, working away at it as best you can, is showing respect to those you will give your content out to.  It's no different than arriving late for something and knowing in advance you were going to be late and leaving late anyway.  That, to me, shows disrespect for those awaiting your arrival.  Not preparing your work properly is the same thing, right?
____________________
Drawing by Marty Coleman, who doesn't like the sound of the whoosh
Quote by Douglas Adams, who wonders how much whoosh a woodchuck whooshes if a woodchuck would chuck whooshes.
____________________