Ideally this would be day 3 of The Ideal Series, and thus it is.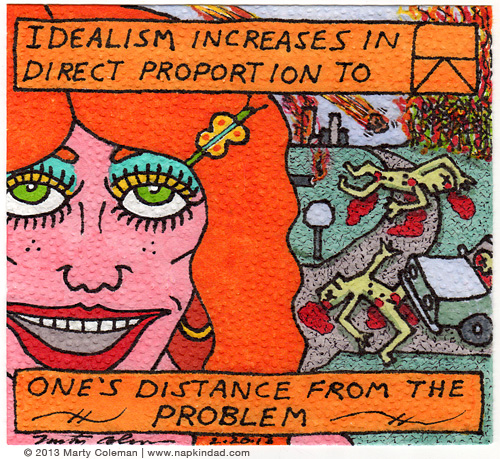 The Ideal Meteor
You know what would be ideal? If a really large meteor, the largest in 100 years, screamed through the atmosphere and blew up and we could see it all happen!  Yes it would be…from a distance.  It would not be ideal if it hit your town, blew out your office glass and cut you up really bad.  It all depends on how close you are, doesn't it.
The Myopic Ideal
If you live in Oklahoma then chances are you might think your ideal world includes no need for gun regulation beyond maybe some safety classes.   Perhaps everyone having a gun is your ideal.  But would you feel the same way if you lived in that violence ridden inner city? I bet the solution would be harder than just simplistically saying let everyone have a gun and all will be well.
But what if you live in a bad area of Chicago or LA or some other city with a very high rate of gun violence?   You are far, far away from rural Oklahoma with it's uncrowded rural life.  Your ideal is different. Perhaps your ideal is no one having guns.  But would you feel the same way if you lived in that quiet rural world? I bet the solution would be harder than just simplistically saying take away all the guns and all will be well.
The 20/20 Ideal
What do you do if you want to find solutions and maintain your idealism at the same time?  Well, we know you can't find a solution without understanding the other side, since even if you do pass a law, it will come back to bite you if it doesn't take into account as many people as possible.  So, we have to compromise.
But what about the idealism, isn't that dead if you have to compromise? No, it is not.  Idealism is not about reaching something (see yesterday's drawing) it's about being guided by something.  Your idealistic guiding principles can include finding solutions that help everyone, not just you and your tribe. But to do that you have to be willing to get inside that other world, if not in person, at least via reading and understanding, with an open heart and a belief in the good faith of the other side.  
You know what that would be? It would be ideal.
________________
Drawing by Marty Coleman, who thinks it would be ideal if some well connected friend of mine contacted a marketing department in a paper company that makes napkins or an art company that makes markers and told them it would be ideal for them to sponsor me.
Quote by John Galsworthy, 1867-1933, British writer.  Nobel Prize winner, Literature – 1932
_______________
Trivia Question of the Day
How did the dandelion get it's name?
Come back tomorrow for the answer
_______________