It's here in black and white; day #4 of Simplicity Week.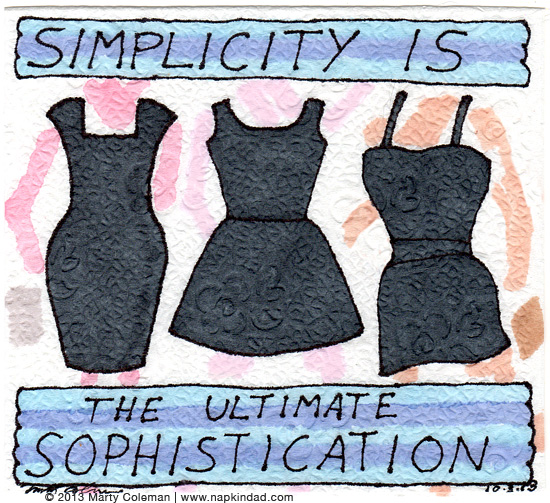 A Definition
In many people's estimation, the most visually iconic example of "simplicity is the ultimate sophistication" is 'The Little Black Dress'.   If it is not simple, or at least appear simple to the eye, it will by definition not be a 'Little Black Dress'.  If it is too ornate, overdone, or fussy it might still be a black dress and it might still be little, but it will not be a 'little black dress'.  A little black dress is simple and in it's simplicity it becomes sophisticated.
Breakfast at Tiffany's
The quintessential example is, once again, Audrey Hepburn. She starred in 'Breakfast at Tiffany's' in the 1960s and her LBD (Little Black Dress) style became the instant example of contemporary style and sophistication.
CC
It didn't start with Holly Golightly though. The LBD started with Coco Chanel.  Before her the ornate, overwrought dresses of the Victorian era still said 'sophistication' to the general population. She (and others) changed that by creating dresses that were simple in line and decoration. 
Icon
And from then until now it's been the standard of simplicity AND sophistication in fashion and design.
What is your favorite example of simplicity being the ultimate sophistication? It doesn't have to be in fashion, it can be in any field.
________________________
Drawing and commentary by Marty Coleman
Quote by Leonardo da Vinci, 1452 – 1519, Italian artist and inventor
________________________