It's no secret, today is #4 of our 'Enjoying Life' series!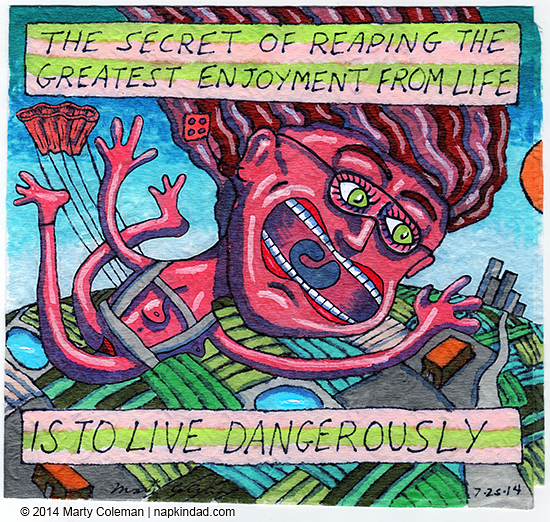 Five Dangerous Things I Did as a Teenager that I Enjoyed 
Taking my small boat out alone after midnight for a rendezvous with 3 European women, 2 Swedish, 1 Finnish, who were anchored out on a boat in a nearby cove.  My buddies and I had met them earlier that day while water skiing.  Nobody really believed me when I told them what happened, but it did. Kids, if you are reading this, don't do this.
Hitchhiking from Connecticut to Ohio during my freshman year of college with my roommate.  We promised the young couple who picked us up and who were eloping to Florida (or something like that) a joint or two if they took us all the way to the campus, which they did and we did.  We were two days late and didn't think it all that important to tell anyone where we were. Our friends and family weren't happy about that but we had fun.  Kids, if you are reading this, don't do this.
Streaking (running naked, a fad in the 70s) across my college campus in the snow in the middle of the night and getting stuck behind a grove of trees with 3 friends when a performance let out at the local theatre and the cars exited on the road we had to cross to get back to the dorm. We were stuck for about 10 minutes and it was COLD! Kids, if you are reading this, don't do this.
Taking the air conditioner out of my girlfriend's bedroom window from the outside so I could sneak in and having to run like hell when I almost got caught by her father.  I guess I could trace my running career to that night if I really want to. Kids, if you are reading this, don't do this.
Driving to Myrtle Beach, South Carolina for spring break with a friend.  Our parents were out of town and we didn't think it necessary to tell them we were going. We meant to go to Florida but the car broke down in South Carolina so we spent our break in a Burger King parking lot near the beach. Luckily, we knew some girls who were staying in Myrtle Beach so we hung out with them for most of the week.  The car (an old Rambler my dad got for $200.00) was toast by the time we got home and had to be junked. Kids, if you are reading this, don't do this.
What dangerous things did you do when you were a teenager?
_______________
Drawing and remembrance by Marty Coleman
Quote by Frederich Nietzsche, 1844 – 1900, German writer and philosopher
_______________
The secret of reaping the greatest enjoyment from life is to live dangerously