Another in my occasional series on writing.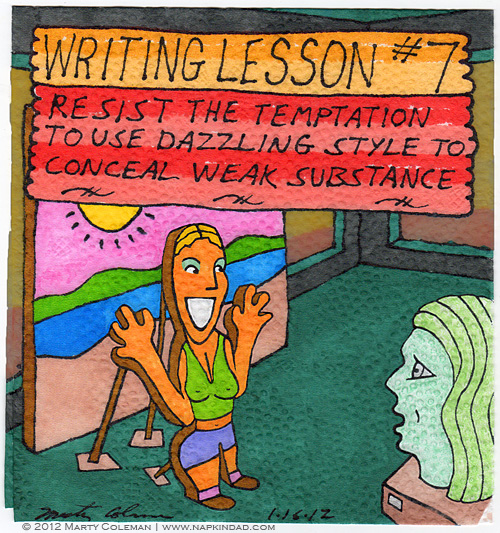 Writing Lesson #7
– Classroom posters by
The Napkin Dad
Have you ever been on a movie set? If you have you know how fake the whole thing is.  Beautiful buildings, looking solid in marble and brick are in fact wood facades with painted on brick and marble.  Luscious landscaping with exotic plants turn out to be plastic and fake.  Actresses in ornate costumes turn out to have old t-shirts and shorts on underneath, not the sexy lingerie the outer garment suggests.
Writing is similar.  All the stylistic hoops you jump through won't be of value unless there is a real story underneath. Something of substance that is worth the reader spending their time paying attention.
Pay attention to that and all the style you want can be added on. Ignore it and all the style in the world won't overcome the emptiness.
Drawing and commentary by Marty Coleman, who types left handed.
Quote by Stanley Schmidt, 1944- not dead yet, American science fiction author