It would be a bare-ass lie if I didn't admit it's day #2 of Naked vs Nude Week at the NDD.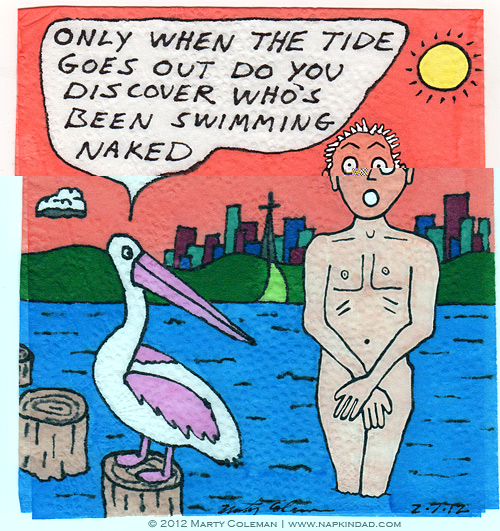 If all the pretenses, lies, masks, decorations, and shiny things of your life were stripped away would you be found to have been swimming naked?  Obviously this is a metaphor. It's not about swimming naked, which is fine and dandy if that's what you want to do and you don't scare small children and pelicans.  What it is about is whether or not you have substance when your money, your track record, your resume is stripped away.
Since the quote is by Warren Buffett perhaps a financial example is in order.  Bernie Madoff had all the bling life could bring.  He had the home, reputation, cars, status, resume, business success, wealth and more.  But what he did not have was a good and true foundation in character underneath it all.  That is the 'naked' this quote is really talking about. When it all goes south, what remains?
By the way, in regards to our series title, 'Naked vs Nude', imagine this quote using the word nude instead of naked. Wouldn't quite work, would it.
See the complete 'Naked vs Nude' series here.
______________________
Drawing and commentary by Marty Coleman who last skinny dipped in 1996.
Quote by Warren Buffett, who, rumor has it, once skinny dipped with Bill Gates after winning a Bridge Tournament.