B is for Beauty
From awe-inspiring cathedrals of redwoods to baggage-laden scars of human life, no single thing has driven me in more ways than the idea of beauty.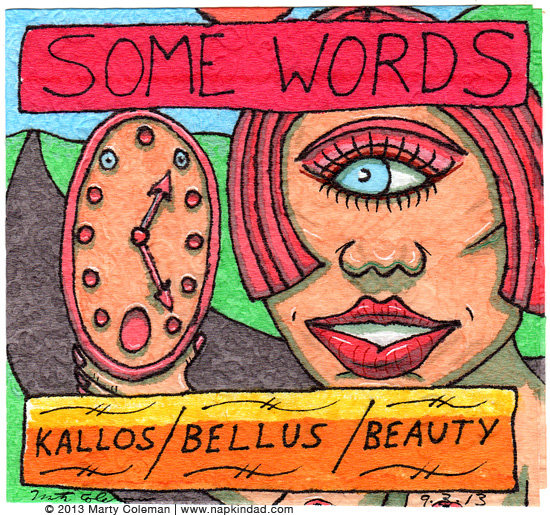 Greek
In Classical Greece (500-323 BC) the word for beauty was Kallos.  Later, when Koine Greek (during the Hellenistic period) was spoken, the word was Hōraios, deriving from hōra, meaning hour. The idea of beauty was intertwined with the idea of being at the right moment, the right hour for your particular beauty.  Being what you were not, a young man trying to look older, or a older woman trying to look younger, was not beautiful because they were denying their 'hour'.  
That is a lesson about beauty that we still hold on to today. Someone who tries to hard to be young again, with bad plastic surgery or skirts too short, is not usually seen as beautiful. Instead they are seen as perhaps a bit desperate to regain their 'hour'.
Latin
Bellus was the word in Ancient Rome.  Obviously, it's where the romance languages got 'Bella' and other similar words meaning beautiful. In ancient Rome it referred to human beauty, mostly with children and women. As a matter of fact it could be seen as derogatory to men, labeling them effeminate by use of that term.  
Words like 'Bellisima' (very beautiful) , names like 'Belle', and descriptions such as 'Bella Donna' (Beautiful lady) all attest to the roots of 'beauty' and 'belle' being the same.  
By the way, Bella Donna also is the name of a poisonous plant, the Deadly Nightshade. So, why is it also 'beautiful lady'? Because women would put drops distilled from the juice of the plant in their eyes to help dilate them, making them more beautiful according to the style of the era.  Also poisoning them to some degree.   But then as now, people will suffer to be beautiful, won't they.
English
Here is how Latin's Bellus became English's Beauty;  Bellus became Bellitat (Vulgar Latin) became Beltet (Old French) became Bealte (Middle English) became Beaute (Old French replacing Middle English) became Beauty. 
It now is used to describe for more than just the appearance of a woman.  Most anything and everything can be described as beautiful now. But, at least for me, it still retains a certain element from it's original definition.  The word 'fine' kept popping up in the old definitions, and I think that is still true.  A person, place or thing that I describe as beautiful will have an element of 'fine', 'exquisite', 'elegant', 'exalted', class' within it's look.  If it doesn't have some element of those things then I am much more likely to use the words pretty, cute, gorgeous, instead of beauty or beautiful.  And of course a person, place or thing can be all those things, including beautiful, at differing times.
Who and what defines beauty for you?
_______________________
_______________________
Drawing and commentary by Marty Coleman
_______________________