The Present Moment
Friday night, Aug 2nd, 2013, Linda and I went to the opening of 'Oh, Tulsa!' Biennial, a group exhibition featuring work that both celebrates and critiques the city of Tulsa. I had 2 pieces included in it.  The first is a photo of me in front of  my collage of Tulsa's KJRH Channel 2 new reporter and anchor, Marla Carter.  The second is of Michelle Linn from Fox23, also in Tulsa.  These are a part of an ongoing series I have been doing since 2009 called 'IN Public/Private' of reporters and anchors I meet in my media travels.
Marla and Michelle both were extraordinarily willing to follow my vision for the shoots. They came with NO makeup on (not the usual situation for a TV personality) and let me photograph them that way. They then both put on their makeup as if there were getting ready for the TV lights.  Michelle actually came out of the Philbrook Museum bathroom with half her face made up and half still natural just because she thought it looked cool. My kind of model! We did a whole series of shots like that that were great fun.
I ended up submitting these two collages for the show since they focused on the personality of Tulsa via those who report about Tulsa to the rest of us.
_____________________________
The Red Eye to the Past
I wanted to attend the opening but my High School reunion was starting that same night, 1,500 miles away in Darien, Connecticut. I spent my teenage years there, after being raised on the beaches of Southern California. It was a culture shock to say the least, but I adjusted (and they adjusted to me) and I had a fantastic Jr. High and High School experience in that town.
I choose to go to the first hour of the exhibition opening, catch a late flight to Denver then take the red eye flight to NYC, rent a car, get some shut eye, then be there for the majority of the weekend festivities. It was going to mean a likely all nighter, but you only live once so why not. 
So, with about 3 (maybe) hours sleep, I did this first thing in the morning.  I got a couple hits, scored a couple runs, ran down and slid all over the outfield trying to catch fly balls.  The softball game was a fun way to break the ice and play instead of having to immediately go into 'This is who I am now, who are you?' mode in conversations.
I had on my Texas Rangers hat. Caitlin, my Texas girl, would be proud that I was representing!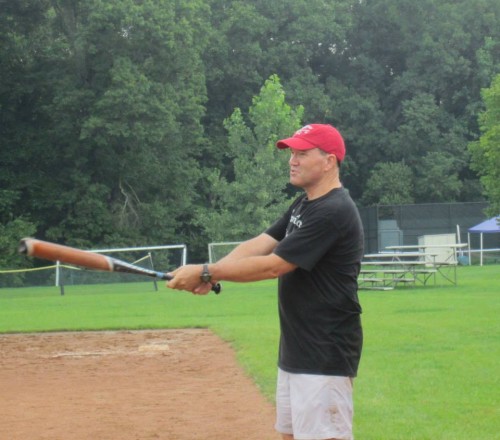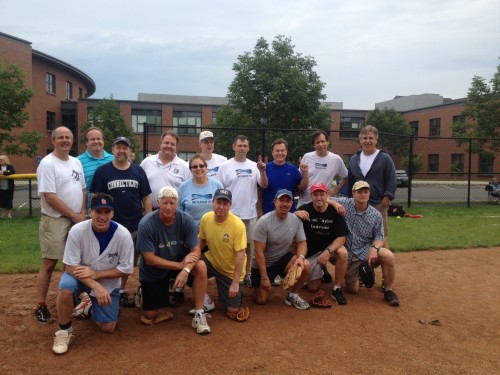 Actually that was after a tour of the new high school. It was a new school, not resembling anything close to our old school, except that it was on the same land, so while it was fun to walk around and shoot the breeze with people, it didn't really bring back memories as it would have if it was the old school. Still, it was nice seeing our town was continuing to grow and move forward.
The Younger Woman
After the game I knew I needed to get in a nap before the big soiree later that night. But before I did I had a few people I needed to see.  First I stopped by the house of a dear friend from High School, Julie Kudenholdt.  She was a few years behind me.  We dated briefly my senior year but alas, as usual, we lost touch over the decades. But Facebook brought a lot of old friends back together, and she was one of them.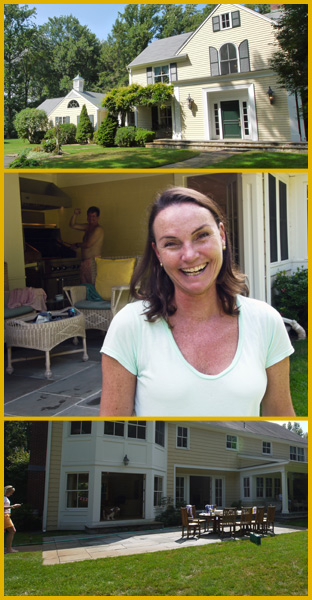 It turns out her beautiful home backs up onto the woods behind our first house in Darien. You can even see our house through the woods during the winter.  Julie and her husband Steve were incredibly gracious when I visited, especially considering they had a pool party happening for their daughter, Julie's mother was just leaving after celebrating her birthday, and Julie's sister was visiting as well.  But no matter; they welcomed me, fed me and we had a great time talking about then and now.  Julie is reviving a dormant acting career, being featured in a number of indie projects in NYC.  It was great to meet her family and see how she had still retained that beautiful sense of joy, wonder and curiosity about others that I had admired 40 years earlier.
One of the best aspects of the visit was not how the older adults welcomed me, but how the plethora of 21 year olds in bathing suits did. Their daughters and friends were confident, gracious, well-mannered and polished.  They spoke well and looked me in the eye.  It was a nice reminder of one of the best aspects of my upbringing in that town. We learned how to be confident and act like adults among adults.  I appreciate it a great deal now that I look back on it years later.
__________________
The Artist
I then went to visit one of our family's dearest friends.  We moved to Darien in the first place because this family lived here.  My mother had met Helene Hall in a grocery store in Hagarstown, Maryland back in the 1950s. They had become friends due to their humor and sass, which they both had in abundance.  Helene was an artist and a former show girl in NYC.  My mother was a debutante from a wealthy family who nevertheless made merciless fun of the pretentions of that world.  But she was refined in her appreciation of art and connected to Helene from then on.
When our family was going to make the move to the east coast, my mother naturally wanted to live near Helene, who had moved to Darien with her husband Floyd and son Bruce, and so we did as well.
Helene was instrumental in my art education and inclination. Starting at age 13 she was always encouraging me in practical ways to create and understand art.  One of her most enduring lessons came when she took me into New York City to the Museum of Modern Art. We were there to see a Picasso sculpture exhibition.  But they were made out of cardboard, and paper, and junk. They were not made out of what sculpture was suppose to be made out of.  And, as one often hears from people who don't understand art, I said to her, "I could do that!" while looking at one of these supposedly easy to create pieces.  She stopped me right then and said, "Ok, then do it.  I challenge you to get whatever material you want, and make a sculpture.  Then explain to me why you made it and what it's all about."  I accepted the challenge, went home, bought some material, mostly thick gauge metal wire and proceeded to start making a sculpture.  I would show her.
But I didn't show her. She showed me.  I never did finish the piece. It hung around in our basement work bench until I finally threw it away, just a bunch of junk taking up space.  It was that practical lesson that taught me in real life what she had told me at the museum in response to my ignorant dismissal of Picasso's work. She said, "What matters isn't IF you can make it. What matters is if you DO make it."  And I realized then that art derives from an idea, from a passion, from an understanding of something and from a desire to understand something even deeper.  it isn't primarily about material or technique. It's primarily driven by the idea.  I have never forgotten that and I always try to keep the idea, no matter who fractured it is, close to the essence of my images.
Here is Helene today, 96 years old, nearing the end but still filled with life and love.  I made sure I told her how important she had been to my art life.  Her son, Bruce, laughed when I did and said, "You know what's funny? My best friend says almost the exact same thing to Helene each and every time he comes to visit."   Helene knew how to inspire and push art out into the world in her own work and in her friendships with others.  I am trying to emulate that same spirit in my life and art as well.
_________________________
You can read and see more of my trip to the East Coast here:
Rebekah and Vivian go to the Laboratory
The Napkin Dad meets the Napkin Mom
The Past and the Present – Reunion, Part 1
The Past and the Present – A Morning Run
_____________________