Bullieve it or not, it's day #2 of Bully Week at the NDD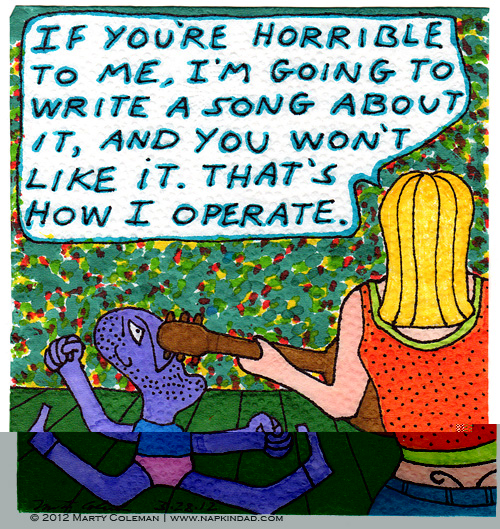 The quote is by Taylor Swift, the singer songwriter.  She is young, blonde and cute. She is sometimes seen in the cliche filter those traits bring out, namely that she is weak and fragile.  But she is not.
She has a secret weapon to fight back against the haters and the bullies.  She uses her creativity and her voice to tell the story of the bully and put him or her on stage for all to see.  The bully doesn't like that.
My new bestie, Delfin Joaquin Paris III (how can you not like a guy named Delfin) had his way of putting the bully on stage. He got some nasty hate mail and wrote this in response.  http://thoughtsfromparis.com/thoughts/i-got-my-first-hate-mail/
How can you put the bully in your life on stage, exposed?  How can you help your sons or daughters do the same, while keeping safe from further harm?
Drawing by Marty Coleman
Quote by Taylor Swift