And finally I win something – even if I made it up myself!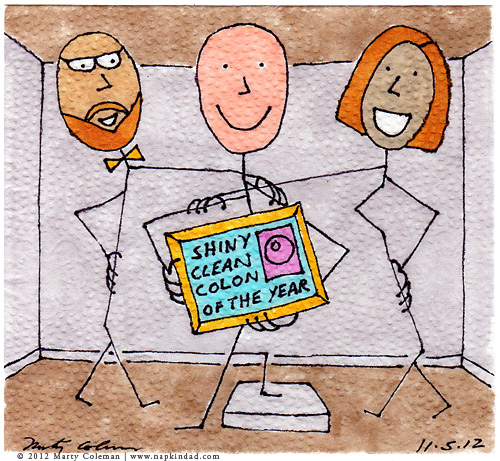 I Was NOT Loopy
So I went through the colonoscopy procedure last week. I remember the anesthesiologist asking me what I did for a living and me saying I was the Napkin Dad, then I blanked out.  I woke up and the nurse and Linda were there. I got my clothes on a few minutes later and was out the door.  When I got in the car Linda said I had been pretty loopy after the procedure. I didn't think I had been.  
Oh, Yes You Were!
Later, we went to lunch and she started telling me about the Dr. coming in and saying how I had no polyps, nothing wrong at all. That I looked great and should keep eating what I am eating, etc.  I stopped her and said, "When did we talk to the Dr?"  She started to laugh and said, "He was in the recovery room, he was there for about 5-10 minutes telling us all sorts of things. You were Mr. Chatty, asking him the same questions again and again about all sorts of things, in particular you wanted to know exactly what diverticulitis was.  He explained it to you and then you would ask another question about it. Then you went on and on about being a runner and about how you were going to run on Sunday with Lora and other people. Then you explained it again about how you were going to run with Lora.  You were quite loopy."   I had NO recollection of that AT ALL.  Very odd.  Makes me wonder what else I said!
_________________
Drawing by Marty Coleman, who has to get another one in 7 years.
_________________
Fact of the day
Diverticulitis  happens when pouches  form in the wall of the colon. If these pouches get inflamed or infected, it is called diverticulitis.
_________________