Drawing at Church
I went to visit my daughter Caitlin this weekend. She lives in Dallas and attends Watermark Church. I went to the early service with her then decided to hang out out in the big spacious lounge/lobby area for about 2 hours (instead of trying to find a coffee shop nearby) while she helped lead a 7th grade girls group.  I spent my time drawing.
The Conversation
The first drawing was in my sketchbook.  I was in the outdoor patio area and noticed three people having a pretty intense conversation. It seemed like they might be there a while so I thought I might be able to get a good drawing out of it.
The woman on the right was the object of the conversation. It was obvious the other two were discussing some issues with her. What about, I didn't know.  While I drew, her 2 young children, one a barely walking toddler and the other perhaps a 3 year old, were getting curious about me and my drawing. The baby came over and offered me a cheese cracker.  I took it and thanked her.  She took an interest in my back pack so I showed her the snap clasp that held the flap closed. She watched with delight as I snapped it open and closed.  
Soon the 3 year old came over and wanted to try his hand at the clasp.  He handed me a sponge dinosaur so he would be hands free.  He quickly took the dinosaur back, ripped his head off, then gave it back to me.  The young boy snapped the clasp again and again while the little girl looked on, either at me, the clasp or her crackers.  
The trio in conversation looked over to be sure the kids were ok, and I reassured them they weren't bothering me.  Meanwhile another child, perhaps 6 years old, started hovering. I could tell what she was doing so I turned and told her it was ok for her to watch me draw.  She liked that and stood a respectful distance and watched.  After I finished the line drawing I showed it to the little hovering girl and she quietly said she thought it was good.  I appreciated that.
By that time the conversation was winding down. The woman on the right came over to retrieve her toddler and I showed her the drawing.  She liked it quite a bit and I gave her my card so she could email me and get a copy of it.
I hope whatever life events she is going through, that she got help and support from the other two. I got the feeling she was dealing with whatever it is pretty well.  I wish her the very best.
____________________
Jamie and Jill
I had another hour to wait at that point so I went inside to get out of the heat, and perhaps find some other people to draw.  There are TV screens in the big lounge area showing the service and a number of people were sitting and watching. I knew that probably gave me at least 45 minutes of drawing time so I settled in and started drawing 2 woman sitting at a tall table.
This time I decided to use a napkin I had with my coffee.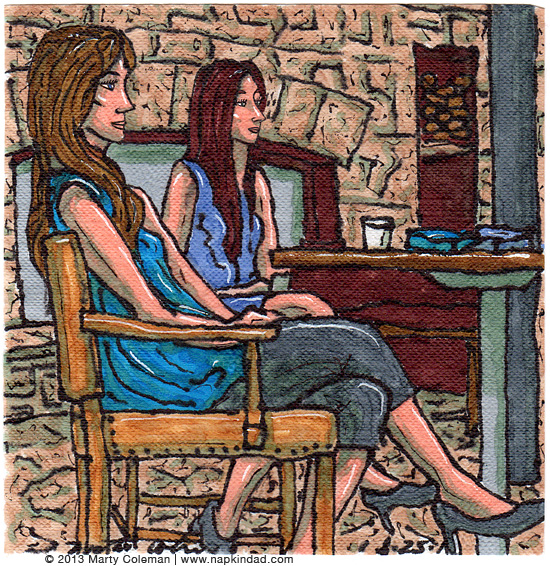 The church has a very wide array of styles among those in attendance.  T-shirts, jeans, shorts, sandals, and tank tops were in abundance.  These two women were were dressed classier than most, combining high heels and casual tops together really well.  I was lucky in that they sat still for almost the entire time, with only the changing of which leg crossed which messing me up a bit. 
I showed the drawing when I was done and the sermon was over. They were a bit wary of me, just some random guy drawing them. But I gave them my card anyway, just in case they want to see the final drawing.  They expressed enthusiasm once they saw the card and said they were looking forward to sharing it among their friends.  They are Jamie and Jill.
________________________
The Lobby
Then church let out, the middle school kids got out, the elementary school kids were picked up and it was a zoo.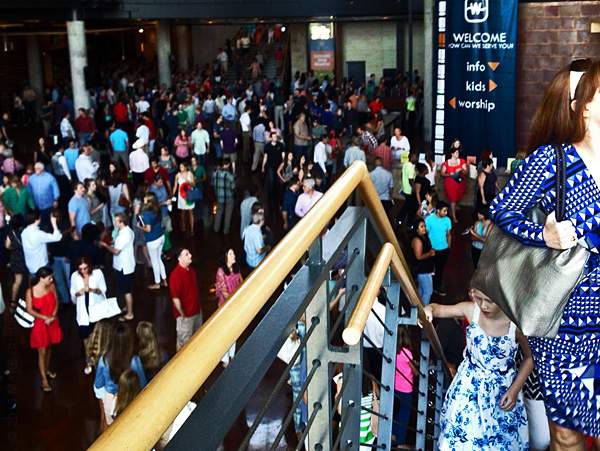 ____________________
I love drawing people and getting to know them as I do.  There is something about the slow, methodical visual investigation of line, color, shading, activity, expression, that allows me access to who they are in a way photography doesn't.  I love photography, but I like drawing as well.
____________________
Drawings and photograph by Marty Coleman
____________________