It doesn't matter if you are in heels or work boots, male or female, tinted black, white, red, yellow, blue, green or gray, you get to vote today.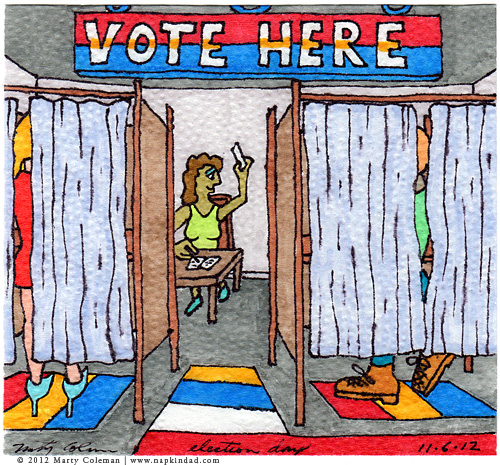 Proud To Be An American
I am never more proud to be an American than on Election Day.  It makes me think of our founding and the principles that were set forth then. I look back at history and feel blessed that we are descendents of a group of men and women who worked out a pretty audacious and untried plan to create a new type of nation and government.  They rebelled against all they knew for it. They lost their fortunes and their place in society for it. They lost their lives for it.  And it came into being, against odds not many would take.
Believing the Best
I was raised thinking politics and public service was a great thing. I still believe that. I don't see all our officials as corrupt or stupid or greedy or conspiratorial.  I see them as people who have decided to see how they can help the rest of us.  That doesn't mean some aren't those things I just mentioned, some are. But even among those it doesn't mean they didn't start out wanting to do good.  As we see some fall and do bad, we kick them out and find others. But that doesn't mean we give up on the rest and it doesn't mean we should have the luxury of being stupid and simplistic ourselves about our nation and those who serve it in public office.
I don't think they are selflessly altruistic either. They have mixed motives just as I do in my life. I am ok with that.  But I do think more about the unknown sacrifices they make then the unknown gains they might get.  I do think about the hard work they do for us, including all the arguing, all the fighting, all the emotional and practical compromises that they have to deal with every day.  I appreciate that and I respect them for dealing with it all for us. So today, I just don't go vote. I think about, and am thankful for, those who have put themselves up for me to consider.
The Example of the Great George
I am thankful that our greatest President, George Washington set such a great example of the voluntary giving up of power. He did it not once, but many time, in war and in peace.  We have had example guide us for well over 200 years now. Every four years we see it in action.  I don't know how many Americans truly realize what a great blessing it is that we have had this system that allows us to move ahead every four years without violence and overthrow.  It's worth a moment to think about and be grateful for.
In the end, it's easy. Go vote. It doesn't matter if you are in a swing state or not. Your vote matters because you are part of a process that matters.
__________________
Drawing by Marty Coleman, who cast his first ballot in 1976.
__________________
Trivia question of the day
In 2008, President Obama was just the 3rd Senator to be elected President while still serving in the Senate. Who were the other two? By the way, McCain, had he won, would also have gone directly from the Senate to the White House.
__________________