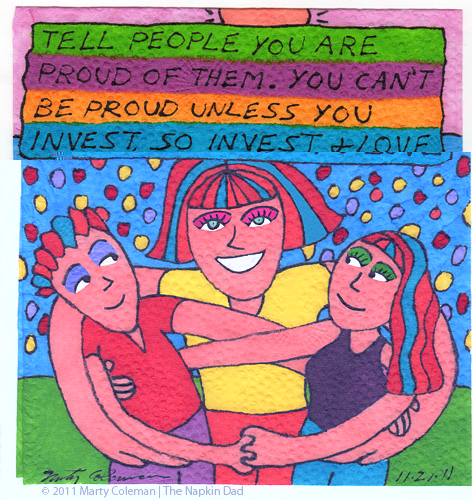 As many of you know, I coach a running group. The group is geared to complete a 1/4 marathon (6.55 miles) after a 12 week training season.  But this season we added on something extra. We tacked on 5 extra weeks and took them from running the 1/4 marathon to a 15k to a 1/2 marathon yesterday.
By the time the 1/2 marathon race started they were on their own; no coaches telling them what pace to run, when to stop for water, what to wear, how to stretch, or what to eat. It was all on them, alone, by themselves to conquer fear, trepidation, worry, excitement, unexpected aspects they couldn't control (internal and external) and to fight their way through it.  And they all did it. I am very proud of them, everyone of them.

I tell them as often as I can that I am proud of them. When I first started saying 'I am proud of you' I had feelings that it was premature, as if I shouldn't be saying it because I don't know them well enough. After all, isn't that reserved for a parent to tell a child or a spouse to tell their partner?
But I soon realized that it was my act of saying it, and believing it, that made me care about them enough for it to be true. I thought about what it was I was proud of in them. What had they overcome? What demons or negativity had they conquered?  What achievement, seemingly out of reach, did they realize?  What blossoming had I seen?
Tell me about how you express your pride in others. Do you say it often? What stops you if you don't.  How do you feel when you get, or do not get, that affirming pride statement from someone?

Drawing and commentary by Marty Coleman of The Napkin Dad Daily

Quote by me