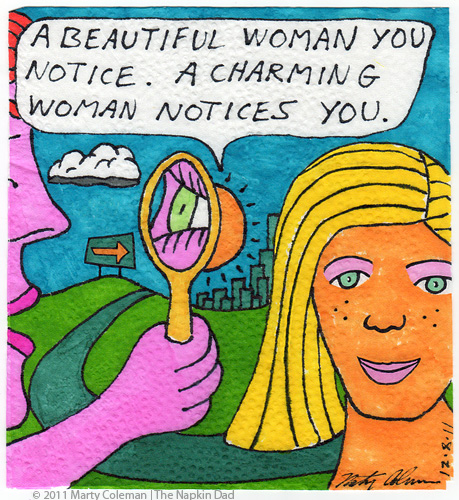 I used to work at a great restaurant in San Jose, California called Eulipia.  One night after work a number of us, 3 women and 3 men, were hanging out at the bar just shooting the breeze.  The women got into a discussion of what sort of men they were attracted to.  One had specific requirements.  Another had an 'ideal man'.  The third had a long list of traits she was not attracted to.  Us men sat silently listening to them explain these mysteries to us. It took quite a while.

After they were done one of the women turned to us men and asked, "So, what sort of women are you attracted to?"  And without missing a beat, all three of us, in harmony said, "Whoever pays attention to us."

And that is the secret of how to attract men, seriously.  Yes, looks matter. Yes, we can like certain 'types'.  But within the very wide range of attraction most men actually have, there is one thing that stands out, the clincher. And that is charm.  The woman with charm, the woman who pays attention to a man, is the one with the advantage, not the one who is most beautiful or has the best figure.

And here is another truth for you men who might be reading this.  It works the other way too. Are you worried you aren't the most handsome, buffed or tall guy?  Worry less about that and more about if you are actually, sincerely showing interest and care about the woman in front of you. THAT is what matters most, even for the 3 women at the bar that night.



Drawing and commentary by Marty Coleman, Publisher of The Napkin Dad Daily.

Quote is by me. It's a variation on a much longer quote by Adlai Stevenson of all people.