An Early Morning Run
Reunions are all about visiting the past while in the present.  One of my most anticipated moments of the weekend was not about seeing my old friends. It was about seeing my old town.  Yes, I was going to be driving around and seeing it. But what really excited me was to do a long run around it.  I am training for a marathon and knew I would need at least a 10 mile run that weekend.  So why not spend some time in advance planning out a route that would take me by some of the spots I wanted to see, even some spots I had never seen before.  I planned it to start from my hotel using the Dailymile.com site where I record my runs.  If I planned it right I would go by some spots I had never seen and some familiar places and get back to the hotel in time to greet my BFF from back in the day, who was coming down from Rhode Island on Sunday morning for the last day of the reunion.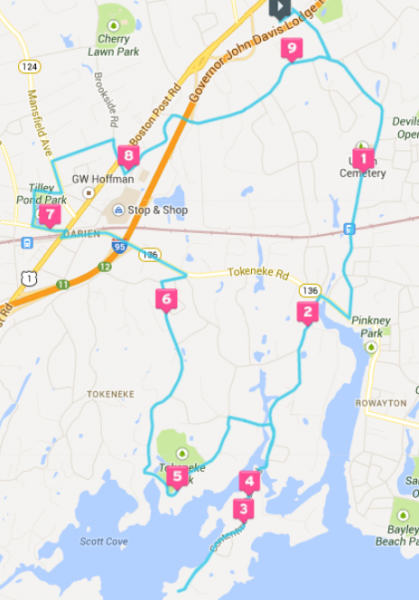 At 7:15 I was out the door and ready to run.  Beautiful morning air, the sun just up over the trees and I was happy.
One of the best things about running in a new place is not what you expect to see, but the joy in seeing the unexpected.  My first 'I have to stop and take a picture' moment was a flock of wild turkeys meandering around a riding ring.  I wanted to sneak up further on them to get a better shot but time and the road called me on.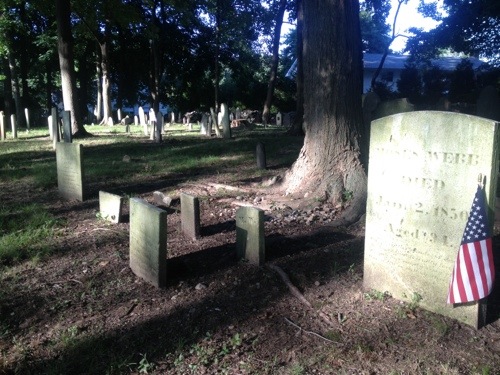 I turned the corner from the turkeys and immediately found this 1850s tombstone in an even older graveyard. One thing that sets New England apart from much of the more westerly parts of the US is how OLD it is. Yes, we have graves this old in Oklahoma and California, but we don't have little neighborhood cemeteries that are about 3 house lots wide (if that) being such an integral part of the present as you find here.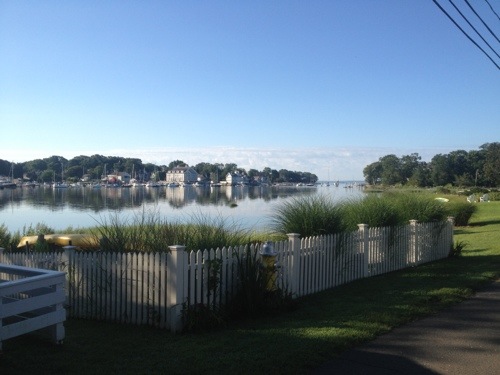 And then there is this scene.  Can you ask for a more picturesque example of a Connecticut waterway? This is Five Mile River and somewhere along it (I don't remember where) we had our boat docked for a number of summers. I ran along this little lane, stopping beside two local folk who were walking their dog (and also taking pictures). We talked for a few moments as we took some shots, me telling them of my fond memories for the area and being at the reunion.  Then they waved me adieu and off I went.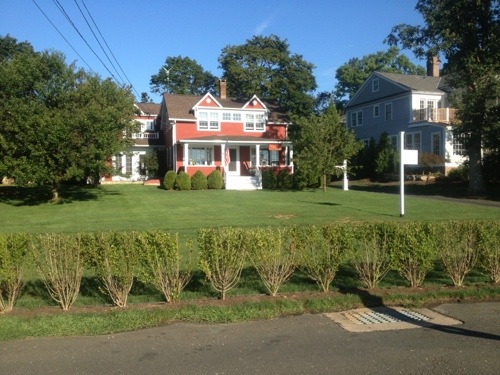 But not before stopping quickly to take a shot of one of the beautiful homes looking out on the scene I showed you above.
__________________
Julie
When I stopped to take the shots above I noticed a woman running up upon me.  I started running as she passed and we struck up a conversation.  If you know me, there is nothing I love more than meeting new people in unexpected ways and connecting to them.  I love meeting people in airports, resorts, restaurants, stores, and on the road. It doesn't matter where.  The odder the place and circumstances, the better.
And so it was with this woman, who I found out was named Julie. As we ran side by side we told each other our running history. She had run in the Nike Women's Marathon in San Francisco a few years back with her sister.  I asked her if she was in training for another race.  She chuckled and said her reason for running now did not have such an exalted goal attached to it, "I am a stay-at-home mom of one & a half year old twins. I run to escape!"  I understand what she meant.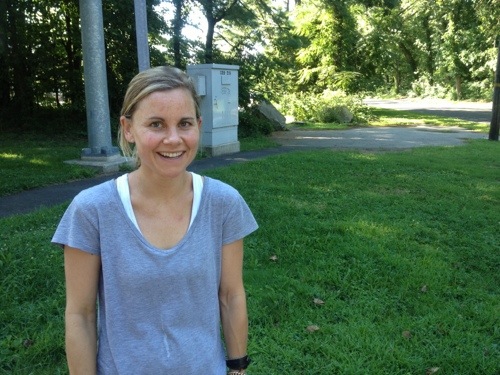 We ended up running together for 4 miles.  She knew the area and so I basically forgot my map route and just let her lead the way as we talked.  I told her why I was in Darien for the weekend and she told me she had also gone to the High School, having graduated in 1999. That meant she was just a year older than my oldest daughter, Rebekah, whom I was going to be visiting a few days hence.  Rebekah had just given birth to my first grandchild so Julie and her were in almost the exact same place in life.  Knowing she had gone to DHS in the late 90s I asked her if my friend, Bruce Hall (see part 1) had been her principal at the time. He had been and she was happy to hear he was doing well. She didn't know his mother Helene, but she enjoyed hearing me tell her about what a great woman she is.
I, of course, wanted to take her picture as a memento of our serendipitous run together. She wasn't too hot on the idea due to her being in her 'I just woke up and ran out the door' look. But I loved that look, she was energized and alive and beautiful in the best sort of way, and she granted me permission to take the pic.
Funny coda to my Julie story.  A few days after I returned I got an email from Bruce saying he had taken his dogs for a walk and had run into an old student of his out for a walk with her twins. She greeted him and told him about having a run with some guy who happened to know him.  A small world indeed.
_____________________
Church and Girls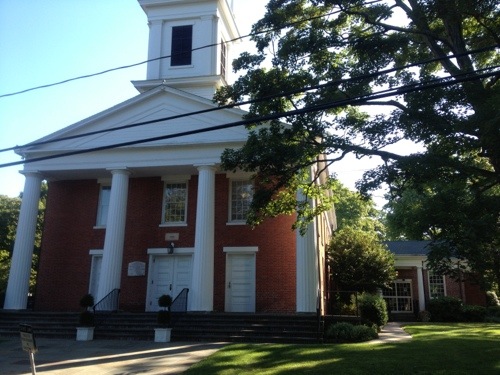 My parents didn't go to church but my best friend Jim's family did. I started going to the local Congregational Church with them in about 1969 or so.  I wasn't religious (I'm still not) but I love ideas and conversation and church is always a good place for both.  Of course at my age then (about 14-15) I loved girls more than ideas or conversation.  And Jim and I discovered two girls at the church that we liked a LOT!
Meridith became Jim's girlfriend and Frances became mine.  They were from the other Jr. High, Mather, and thus were 'exotic'.  We were cool to have girlfriends from the other school.  We also incurred the wrath of some of the boys from that school, but we didn't care.  Anyway, the boys who hated us then became great friends in High School.
And Meridith and Frances?  Well, Jim and Meridith dated quite a while, well into High School. Frances and I didn't last all that long as BF/GF but we remained great friends throughout High School and beyond. They both turned out to be wonderful woman whom Jim and I are still connected to in the best of ways, as dear, dear friends.
Meridith didn't make the reunion, but I visited her in Seattle in 2011 and got this shot of her.
Frances was at the reunion and I got this shot of her at the Sunday picnic
______________________
Home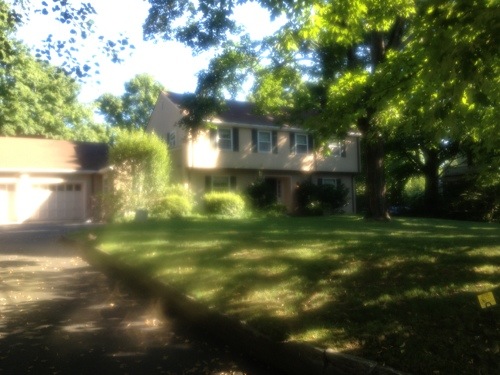 The last stop on my running tour was my old home.  I had already driven by it but I took a bit of time to really look at it this time.  They had changed some things, it has an odd stucco siding on it, something that looks great on a Spanish or California style house, but looks very odd on a simple New England style box.  
As much as the house was interesting to see, bringing back memories of sneaking out late at night (or as Frances told me at the reunion, the time Meridith and her snuck out and drove over in their pajamas to hang out with us), it really was the entire street that brought back the sweetest memories. Memories of walking our beautiful Samoyed dog named Vodka (we had alcohol troubles in our family, can you tell?) down the street and back. Memories of the woman who lived behind us and the cat she ran over that I tried to save as it bit my finger in a jaw death grip before it passed away.  
Memories of various cars in the driveway, including a Volkswagon Campmobile with a fold down bed.  Parents, it might not be the wisest idea to give your teenage son access to such a car. I'm just sayin'…
___________________
Jim
I made my way back to the hotel, figuring I would be back right about the time Jim arrived from Rhode Island. And sure enough, as I ran up to the hotel entrance, Jim was walking up at the same time. He had even passed me on the main drag and figured it was me finishing my run.  
Jim and I met when his mother forced him out of his house one afternoon, telling him, 'Go meet the new kid down the street and don't come back expecting dinner until you do.'  He walked down Shady Acres Lane and did.  We were best of friends from then on.  It was a great relationship.  His family and home were a refuge for me during some trying family times. His parents were accepting and loving and seemed happy to have me around, even as I tried their patience with some of the mishaps I brought with me.
I am not sure what my house and family offered him, but I did have an older sister who, along with her bevy of best friends, were the hottest girls of the class 2 years before us. For a teenage boy, that's a pretty good reason to hang around a friend's house.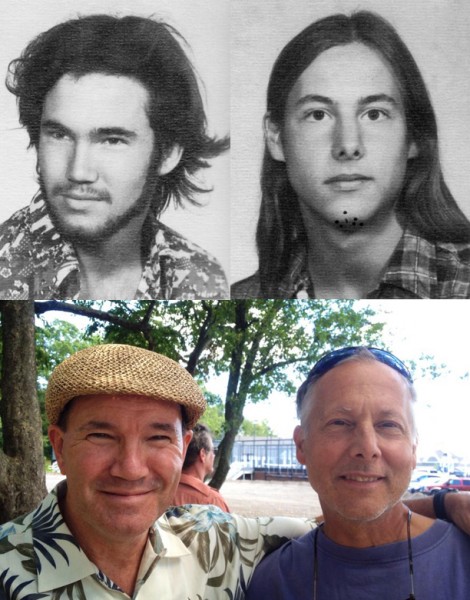 We went on spring break road trips together to Florida (during high school no less), spent summer vacations together now and then in Montauk, Long Island and Fire Island off of Long Island.  We went on winter skiing adventures to Vermont, me learning nothing about proper skiing form and hitting trees left and right, him learning to avoid the trees with a bit more technique and by watching me. We, along with his older brother Michael, learned to fly airplanes together, yes real airplanes.  We were members of the Sky Life Flying Club starting at age 13 and learned to fly little Cessna 150s and 172s.  We took Transcendental Meditation together, smoked pot together, learned to drink together.  We learned about girls together.
In 1979 we got married within 2 weeks of each other, both attending each other's wedding.  Within short order we had 3 kids each, not too far apart.  I am the first to have a grandbaby but I suspect he will have one relatively soon and catch up with me.
It's great to have an awesome friend like Jim throughout the years.
___________________
You can read and see more of my trip to the East Coast here:
Rebekah and Vivian go to the Laboratory
The Napkin Dad meets the Napkin Mom
The Past and the Present – Reunion, Part 1
The Past and the Present – A Morning Run
_____________________
And finally…
I am trying to land a speaking gig at the 2014 SXSW Interactive Conference.  I am in their 'PanelPicker' process. Meaning I proposed a photography workshop and now people vote on it.  There are THOUSANDS of proposals so I need to rally my Napkin Kin to vote for me. So, would you be able to vote for my photography proposal for SXSW? Here is the link.
http://panelpicker.sxsw.com/vote/24603
You do have to register so that sucks but it's painless at least.  If you aren't comfortable registering, perhaps you can amplify the link on your social media channels. That would be very cool, either way. THANK YOU!