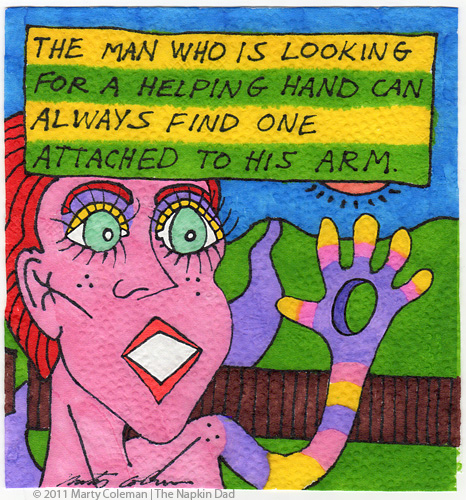 The Story of Arm and Hand
Arm and Hand are at war with each other. Arm is lazy but Hand is not.  But Arm find ways to stop the communication between Hand and her owner, Head.  Head ends up thinking Hand is lazy too but it's really just Arm's message getting through, not Hand's. Head feels like she can't do anything since she can't get Hand to do anything.  Head needs help but Hand isn't helping.

But one day Arm falls asleep and Hand gets a message through to Head saying, "I want to WORK, tell me what to do!"  Head says, "OK! I want you to heal Mr. Sink." And Hand goes and fixes Mr. Sink.  Head then says, " I want you to give Foot a massage" and hand does it.

Arm has woken up by this point but it is too late.  Head and Hand have fixed the communications path and Arm must now obey whatever they decide to do.  Arm is not happy about this but there is nothing she can do.

Head becomes very happy because she is able, for the first time, to see life through Hand. She likes the world she sees and lives happily ever after.
The End

Drawing and story by Marty Coleman, Publisher of The Napkin Dad Daily and Owner of MAKE Design and Photography Studio

Quote by Anonymous