If you can believe your eyes and ears, it's day #5 of 'Women vs Men' week!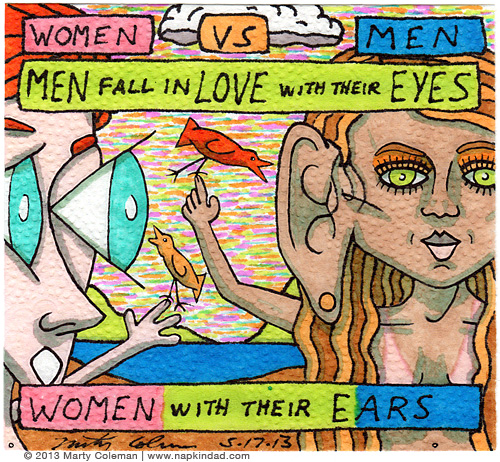 'Men fall in love with their eyes, women with their ears'
What think you of this idea? Is it true for you or those you know?  Tell your Napkin Kin how so.
_____________
Drawing and questions by Marty Coleman, who is hard of hearing and good of seeing.
Quote by Woodrow Wyatt, 1918-1997, British Politician
_____________
As long as I am on a musical kick, here is a song from 'My Fair Lady' that exemplifies the frustration between the sexes, at least from a misogynist male perspective.  'Why Can't A Woman Be More Like A Man?'  This one should get some of my red blooded female Napkin Kin going!

_______________