ALERT THE MEDIA! It's day #3 of 'It's The Law!' week at the NDD!
______________________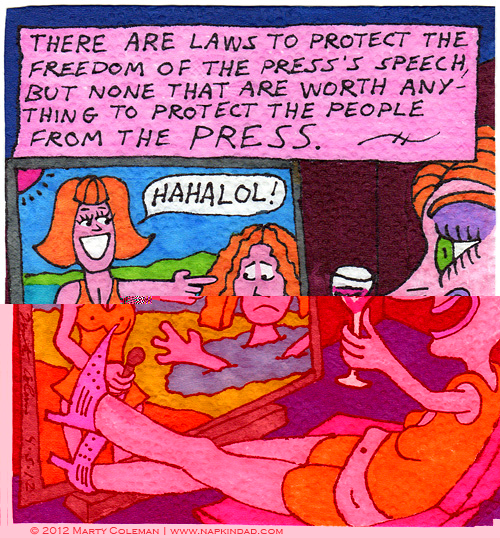 I read a great article this morning by a writer friend I haven't ever met, Monica Bielanko.  She writes for a celebrity oriented website and has been struggling with the issue of reporting on celebrity's children.  It got me thinking about the current state of affairs in our media culture and this is what I wrote in response to her article.  Go read the article if you have time, it's worth it.  It gave me a great deal of respect for Monica.
Snarky judgment is the single worst cultural development of the last 20 years and I hate it. I know both have been around forever but we as a culture have embraced it and made it hip and cool in the past few decades. It's not hip, it's not cool. It's sophomoric, it's mean-spirited, and it's demeaning to both the speaker and the object of the attention.
Any ongoing attitude you have in life, good or bad, is sort of like a chronic disease. It will increase and change into something fatal. If you focus on loving, forgiving, being compassionate and kind, you become more of those things over time. You end up being one of those fantastic grandparents that has more love than you can possibly comprehend someone having. If you focus on being sarcastic (even if it is funny, which much of it is) judgmental and purposely get a kick out of inflicting pain on others then you will end up being mean, bitter, hurtful and angry at the world. I choose the former set of attitudes to work on and pay attention to in others.
What do you think of the current media world we live in? Do you watch certain shows you actually hate yourself for watching? I watched both The Soup and Fashion Police for quite a while. I have stopped watching both because the judgment and mean-spiritedness was not what I wanted to pay attention to. Anyone want to produce a positive version of Fashion Police? I will watch it in a second!
___________________
Drawing and commentary by Marty Coleman, who wants to be a kind old grandpa one day.
Quote by Mark Twain, who was if I remember correctly.
__________________