It's the final day of Oscar Week at the NDD!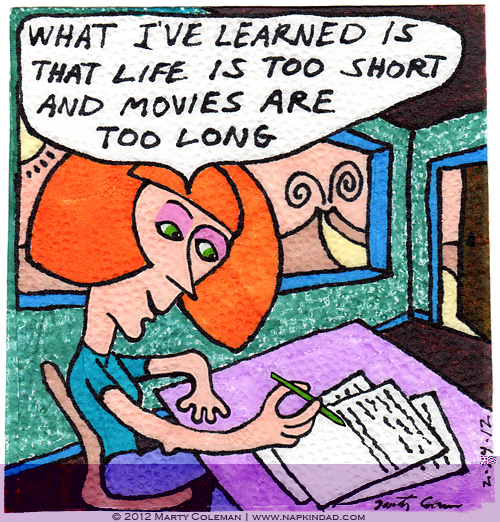 I love a good script in a movie. I hate a bad script. Makes me crazy to have to listen to stilted or overly flowery speech that has nothing to do with who the actors in the movie are pretending to be.  This year there were a number of great scripts up for Best Screenplay.
Best Adapted Screenplay
While we were watching 'The Descendants' I kept turning to my wife and saying 'this script is REALLY good' (in a whisper so as not to bother the other movie goers, don't worry). I probably bothered her but I had to tell someone how great it was. It's easily my choice for Best Adapted Screenplay.
Hugo is a close second but could reach the pitch perfect depiction of the characters that I saw in The Descendant's script.
The Ides of March and Moneyball were ok, but didn't stand out in my mind.
I didn't see Tinker Tailor Soldier Spy
Best Original Screenplay
Here's something funny.  A silent movie, 'The Artist',  is up for best original screenplay. What's up with that?  The truth is, it had a great screenplay!  As a matter of fact I am choosing it as my best. How can that be? Because a screenplay is not about how many words, it's about how well suited the words are. It is also, in this case, about the body language, facial expressions and action.
Bridesmaid – uh…no. Sorry. Not anywhere near.
Margin Call – Good, had a lot of intense discussions in it, but also had a lot of mundane and forgettable parts.
Midnight in Paris – Actually not as good as I was hoping.  Whiny Woody Allen replacement Owen Wilson made it hard to like the movie and his lines were all stock Woody Allen schtick.  The famous characters from the past had too many cliche lines that turned them into caricatures of themselves.
I didn't see 'A Separation'.