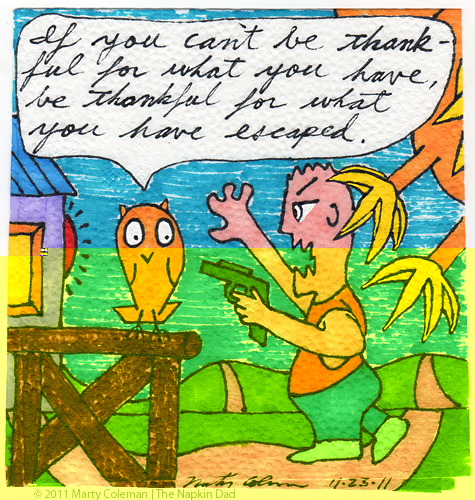 Some things I escaped, for which I am grateful.

Losing an Eye – 1955/1965 – Numerous cuts around my eyes as a kid. My nickname in my family was 'Stitch'.
War/Combat – 1972/73 – Was just young enough to not be drafted during the Vietnam war.
Injury – 1972 – Private plane landing.  Tire went flat on landing, but not before we had slowed down considerably.
Rape/Death – 1973 – Got in the car of a stranger during a severe rainstorm at LaGuardia Airport. Talked my way out of it successfully.
Death – 1973 boat explosion – Severely burned but survived.
Injury/Death – 1989 Loma Prieta/World Series Earthquake – Very close to the epicenter in Santa Cruz county.
Injury/Death/Arrest – 1993 – driving while intoxicated – Stopped drinking in May of that year.
Nasty Divorce – 2000 – First wife Kathy and I had an amicable divorce and remain good friends and supporters.
What have you escaped for which you are grateful?
Drawing and List by Marty Coleman, Publisher of The Napkin Dad Daily
Quote by Anonymous