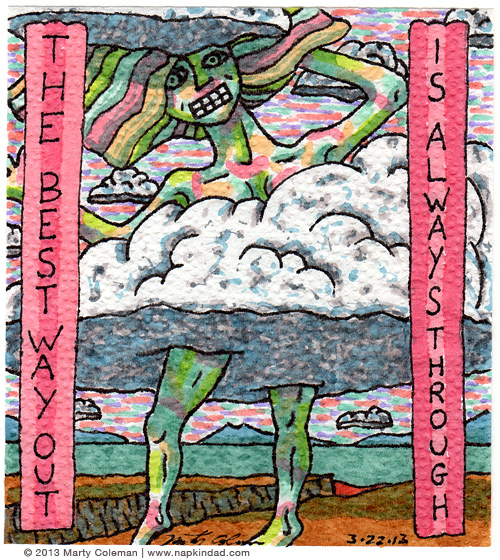 No Escape
One of the hardest things to learn as an adult is that you cannot escape your problems without going through your problems.  And the reason for that is because, while you might be able to escape a relationship, a location, or even a life style, you can't escape yourself.
You might say, but I am not the problem, my spouse is the problem.  If that is the case, then ask yourself how did you get into, and stay in, that relationship?  Because of you is the answer. Thus, you have something that needs to be dealt with. Maybe you aren't the abusive one, or the angry one, but you are the one that got into the relationship with the abusive and angry one.
The Map and the X
How do you get out of yourself?  Well, how do you get to a place you have never gone before?  You get a map.  You put a big old X on the map and you figure out how to get there.  But you need to mark that X first.  Where do you want to be?  Who do you want to be? What do you want to look like, feel like, talk like, think like, love like?  Those are all destinations and you it is possible to find a map and mark and X for each one of them.
The map might be disguised as a religion, a meditation, a group, a friend, a book, a TV show, a piece of art.  But there is a map for you. Discovering the map and the X is actually the easy part.  It's deciding to go on the journey that is hard.
Unpacking to Leave
What do you do when you get ready to go somewhere? You pack.  But in this sort of journey you might have to do the opposite. You might have to shed the baggage and start off by stripping down, admitting where you are, who you are and THEN gather up a few things and move forward.
But in the end you have to be willing to say goodbye to not just your boyfriend or job or couch, you have to say goodbye to yourself.  That is where most people get stopped.  In spite of their desire to change, they are afraid of losing that familiar 'me'.  If you can give up that 'me' with the confidence the new 'me' will be so much better, you can do it.  But that new me has to first be on the map you are using.  
Where is your X?
_______________
Drawing and commentary by Marty Coleman, who loves to make an X.
Quote by Robert Frost, Poet.
_______________