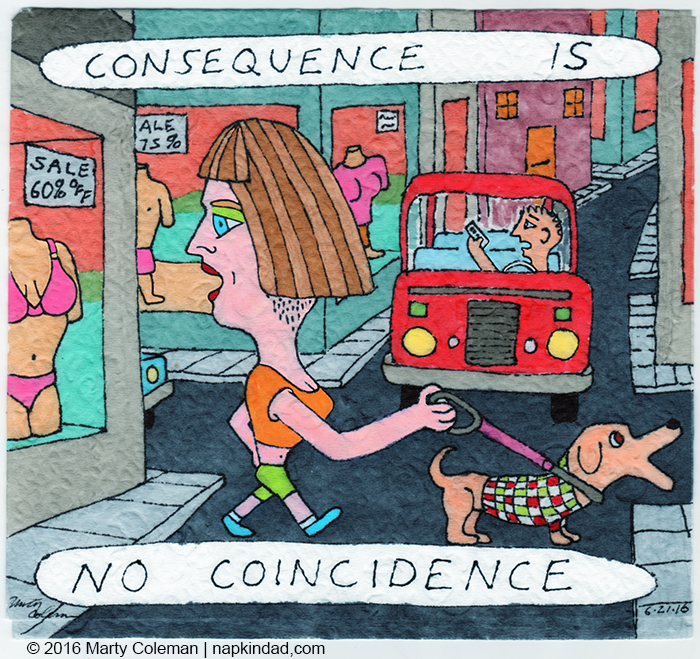 Buy the original $125.00 | Buy a print – $25.00 | with mat and frame – add $30.00
Revisiting a Theme
I did this drawing yesterday (6/21/16).  I also did it in 1980.  Not this exact image of course, but the same basic scene. In 1980 it was a woodcut print.  I also have created it a few times on napkins over the last decade.  Why is that? Why do artists revisit a theme like this? I mean, we all do it, right?  That is how we eventually gain a style and a look. We keep wanting to try something again and again. Can I do it better? Can I do it in a different way that will bring out a different aspect of the idea?  Can I have fun with it again, like I did last time.  Sounds like a sport when I say it like that, and in some ways it is.
Why This Theme?
So, why do I revisit this theme in particular?  I think it's because I have always been drawn to the problem of not paying attention or of paying attention to the wrong thing at the wrong time. I have that problem to some degree and so do many others. And it has consequences.  Bad things can happen when you are distracted. It can be as simple as getting honked at, or as complex as an airline crashing with resulting insignificant or significant consequences.
For some reason this idea keeps coming back to me. Maybe because I keep being reminded of it by the outside world, in news reports about the parent who left a loaded pistol on her bed and a toddler got hold of it to tragic consequences, or the politician who gets caught with his pants down but can't stop his behavior and gets caught again, also to tragic consequences.
It's Not Easy
If you watch me on Periscope or read this blog regularly you know I believe we live in a 'judgment society' these days. In the old days, people believed an unseen God watched us and judged us. We were going to go to hell because he had seen us doing bad things (or thinking about doing bad things). In Christianity of course, they are saved from that fate by Jesus. In other religions they have their ways of being saved as well.  But it always required being saved or redeemed in some way.
The Internet is God
Now however, it's not an unseeing God, it's the internet who sees us and judges us.  Just look at any unfortunate event, like the 2 year old taken by the Alligator in Florida, or the toddler falling into the Gorilla enclosure in Ohio and you will immediately see that unseen God in the form of very angry and very self-righteous observers demanding justice, castigating the institutions, decrying to terrible parenting, etc. 
No Mercy
The difference now, with the Internet playing God, is that there is preeminently the judgment. The mercy, compassion, forgiveness, understanding and patience is less and less apparent. It is not what is expressed or thought of first, but usually only in response to the severe judgment that comes from all sides. Don't get me wrong, I appreciate that it comes, I just wish it was the first thing we thought instead of the last.
---
Drawing and commentary © 2016 Marty Coleman | napkindad.com
Quote by Lauryn Hill, 1975 – not dead yet, American singer/songwriter

---