Olympics Series – #3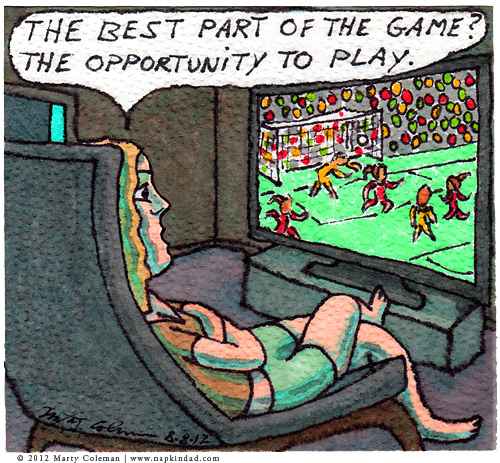 Heartbreak
I watched a lot of the American Olympic trials that were broadcast about a month before the games.  They are really more heartbreaking to me than the Olympics.  If you are at the Olympics, the heartbreak is falling short there.  But if you fall short at the trials, you watch the Olympics at home on TV like the rest of us.  For some, it's disappointing, but they have been to the Olympics in years past and won something.  But for those who don't get there the first time, and perhaps will now never get there, it is not just disappointing, it's depressing.  
What they need, even more than some of the Olympians, is Olympic size courage. Courage to lay down one dream gently and pick up a new one, one for which they might not even know where to start looking. 
I admire greatly those who don't make it after trying with all their might.  I always feel for them but I also always root them on to find a new dream.
____________________
Drawing by Marty Coleman, who has never been to the Olympics.
Quote by Mike Singletary