Introduction
Earlier this week I found out that the most important man in my adult life passed away.  Dwight Johnson (my ex-father-in-law) taught me so many things I didn't know. It might have been how to fix a car (which we did again and again through about 15 years and too many cars). Maybe it was how to wallpaper.  Maybe it was how to fix something having to do with plumbing or electrical around the house.  Maybe it was how to keep squirrels from getting to a bird feeder (yes, he successfully figured that out).
You might think, 'well, that's nice, he sure was a good handyman.' That is very true and I learned a lot from him in that regard. I became a true DIYer because of him.  But that isn't why he was so important.
He was important because he taught me love.  Love for family, friends, church, society, individuals he didn't know at all. Love towards me.  He taught me what is worth sacrificing for love. How love is the highest response, over all other attitudes and responses.  He didn't ever say this to me.  He lived it out and showed it to me. Not once, but many, many times.  How he did it from the first day I met him until a few days before he died is the story of a relationship of deep blessings for me, and maybe a bit for him as well. 
Chapter 1 – Menthol
I met Dwight when I was 24, a month after I started dating his eldest daughter, Kathy.  I had already decided I was going to marry her, had already asked her, and she had already said yes.  We were driving down to San Jose from San Francisco where we lived to meet her parents, Dwight and Vivian. We had with us our best friends at the time, Tom and Kim.
As we approached the house I turned to them all and said, "Don't spill the beans. I haven't met them yet and just in case they are completely weird and the situation is way out of my comfort zone, I might not feel right about saying anything about us being engaged.  If I think it's cool, I will nod yes to you guys, if it's not cool, I will shake my head, no, ok?"  They all agreed.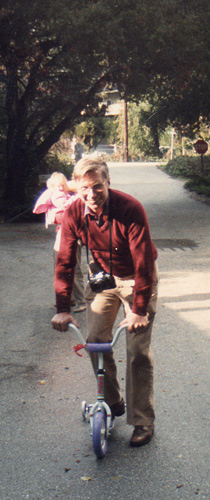 The front door opened right as we arrived at it. The first thing that hit me was a very strong smell of menthol.  Dwight was there and greeted us.  Kathy introduced me to him and as I shook his hand the smell of menthol was really strong. I realized his moustache was filled with gobs of Vick's Vapo-Rub.  I turned to Kathy and our friends and subtly shook my head, 'no'.
I used to love that story for the humor of my response, but now I love it because of what it said about Dwight.  He seemed as straight-laced as it comes. He was an IBM engineer, a church going Presbyterian, and family man and firmly ensconced in the American middle class.  He wasn't wild, crazy, creative, dangerous, bad, immoral, addicted, irresponsible or greedy.  What he was, was himself.  Within this straight-laced guy, a guy most people would look at and say, 'he's a conformist', was a person who really didn't give a hoot what others thought of him.  It turns out he didn't have to worry about that too much because he fit in well with his world overall. But if he had a cold, he was going to put Vick's in his moustache, that's all there was too it. His thought was probably, 'Why would anyone be bothered by this, anyway? It's practical, it's needed and I am going to do it.'
What I learned was that it doesn't take one being a sociological freak to be one's self. It just takes doing what you want to do as long as it doesn't hurt yourself or other people. Other people will respect that.
We didn't tell them of our engagement that day, but a few months later I did go to Dwight and ask for his daughter's hand in marriage.  8 months after I got that whiff of menthol he walked his daughter down the aisle to me.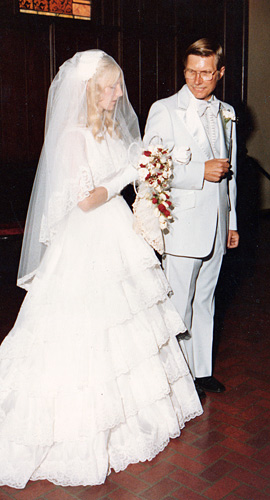 Chapter One – Menthol
Next up – Chapter Three – Grandkids
___________________________
Kindle