The Mistimed Lecture
I went to a lecture at the Philbrook Museum of Art in Tulsa last night. I thought it started at 6 but that was the cocktail hour. The lecture actually started at 7.  So, I stood at a tall table and drank myself silly with a Sprite and watched the world go by (after I checked out the special exhibition for the second time).  A woman came to the lecture hall door, peaked in and turned around toward me asking, 'Does the lecture start at 6:30?'.  I told her when it started and we subsequently engaged in a cool conversation about her name (same as my eldest daughter, Rebekah), architecture (the topic of the lecture), Russia (where she lived for many years), legal careers (hers), art careers (mine), Photography (both of ours) and mermaids.
I asked if I could draw her on the cocktail napkin I had at the ready and she willingly obliged. Not only that but she looked off in the distance and never moved or blinked for the entire time. She knew how to strike a pose.  I decided she was probably a mermaid in another life and so drew her as one.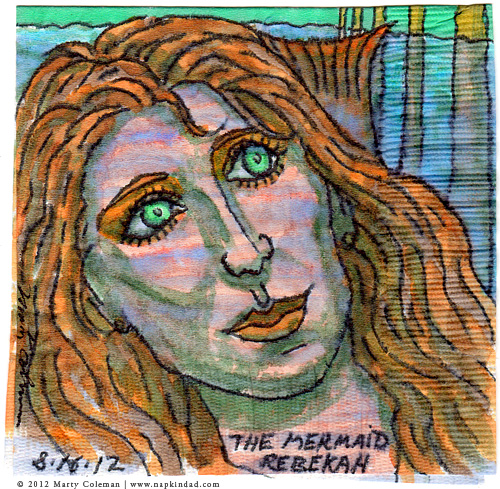 Nicci's Mermaid Poem
After the lecture I dropped by a friend's new home to pick up some coffee table art books (Monet, Europe and Post-Impressionism) she was giving away and to see her new digs.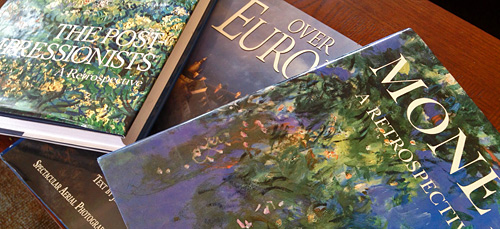 It's a totally awesome sleek modern home that fits her perfectly. I follow her blog, her Facebook page and read her writings in the local media on occasion. She is not only stylish and hip, but is a very serious seeker of knowledge and truth. She works hard to communicate that intellectual and spiritual journey she is on and I appreciate that.  We talked about a number of things but eventually got to the most important topic of the day, Mermaids. She just happened to have written a poem about her life as a mermaid and graciously sent it to me later that night. Here it is.
My Life as a Mermaid
i fell into the ocean
but found solace in the sea
so i swam amidst the coral
taking shelter in the reef.
and then i rode an ancient turtle
and challenged a great white
and short circuited an electric eel
one harsh and choppy night.
and then i sang to east bound sailors
from atop a sun drenched cliff
and with a watchful eye 
i surfed the tide
and then stormed a pirate ship.
i lassoed a violent current
and then skipped along the shelf
and fought high and low
so that i might know
the Golden Age of Sail…
Nicci Atchley
Her blog is set to relaunch in October, 2012.

twitter
@nicci6

Facebook page – nicci6 
_________________
And there you have it, my visual ode to mermaids near and far through the past week ending with me drawing and hearing from real people who just might be mermaids.
_________________
Drawing and commentary by Marty Coleman, who is not a Merman.
_________________
The Night of Mermaids 
Kindle