Hello Napkin Kin!
I've been gone on an epic solo road trip to Berkeley, California and back.  It was 9 days, 3,675 miles and 62 hours in the car.  I took 2.5 days to get there and 3 to get back with 3 and 1/2 days in Berkeley visiting my daughter Chelsea and partner Graham along with my first Grandson, Otis!  
I didn't post here during the trip because I posted on instagram, Facebook, Twitter and Tumblr instead. I figured I would show you the pics in 2-3 posts.
Airbnb
I have done similar trips before where I pushed it to 2 days and even 30 hours straight but I decided to do a little Airbnbing this time around.  Do you know what Airbnb.com is? It's an online room renting service.  I first used it back in 2012 for 4 days in New York City when I spoke at Blog World. I rented a room in a little apartment in the West Village and loved it. So on this trip I not only found rooms on the trip out and back but stayed 4 days in Berkeley at an Airbnb home as well. Chelsea and Graham live in a studio apartment with a newborn so staying with them was NOT going to be happening.
So, here are the pics from the way out + some bonus ones only YOU get to see. Aren't you special?!
_________________
Day One
I was also pulling a trailer full of furniture on the way out.  It was a couple of beds, a dresser and miscellaneous tables for them to put in their little studio space. I started off on Saturday around noon after coaching my running group. I ran 9 miles which I thought wouldn't be so long a run as to make a long road trip immediately afterward unbearable. I was right, my legs and the drive were fine.  My goal was to get to Albuquerque, New Mexico by 10pm or so.
I wasn't deep in the heart of Texas, more along the edge, but the Panhandle is about as Texas as it gets.  I loved the simple design of the two stars, one a shadow cutout, the other a window to the sky.  Texas has some of the best tourist info areas, always well designed and interesting.

If you are wondering of West Texas is a flat as they say?  Yes, it is.
I hit the New Mexico border at sunset and was able to grab a shot of the sun setting in the Land of Enchantment.
______________________
Day Two
The flowers outside my first stop, an Airbnb room in Albuquerque, were amazing – especially after the sun rose and they were brightly lit.
I took off early and as I turned my first corner leaving town I found this rising to greet me as the day dawned.
Later in the day I hit the high desert area of California. The Mojave Desert to be exact. It's not all one big sand dune, most deserts aren't actually. But it is arid and stark. But that arid starkness leads to incredible beauty and exquisite design.
This was taken in Boron, California. When I was a kid there was a cleaning product called 24 Mule Team Borax. I always knew it came from here, Boron in the high desert. And now I've seen it.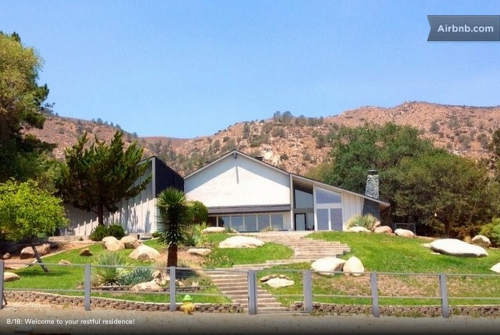 I spent night 2 at a fantastic Airbnb location in Tehachapi, California. It is also in the high desert, at the western edge right before you travel down into the central valley and Bakersfield.  Richard was my host and he was attentive, interesting and engaging.  We talked about our mutual lives (he had lived 40 years in Hawaii as a dive instructor) before I went to bed. 
The house was built by a silent screen star named Thelma after her retirement in the 60s and he had spent the past year doing renovations to the place. It was immaculate.
____________________
Day 3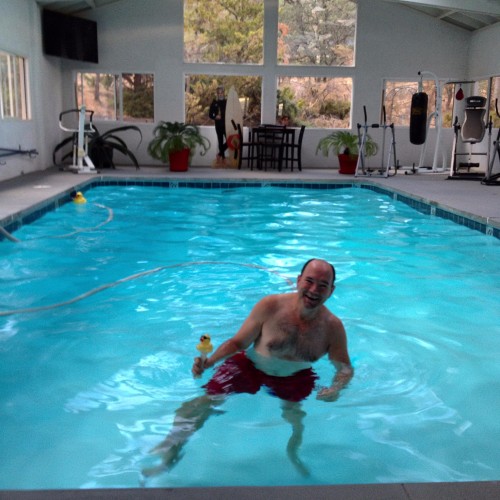 He had an indoor pool that I was able to swim in in the morning. It is solar heated and was fantastic. Yes, that is a rubber ducky in my hand and no, that is not my tail coming out behind me.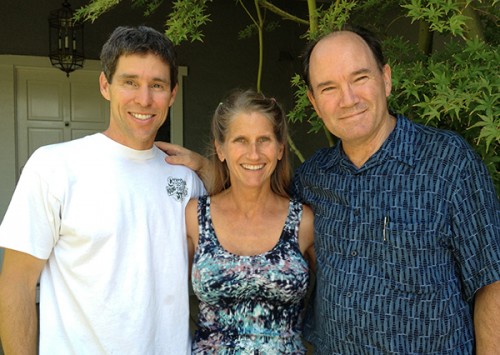 My first official stop in California was at the home of Cyndi and Darrell Blaschak in Livermore.  Cyndi is the younger sister of my exwife Kathy.  In addition to furniture for Chelsea I had brought on piece, an old sled bed, for Kathy as well. She had left it with me when she had moved back to California from Tulsa in 2004 or so. And now, 10 years later, I was bringing it back. Unfortunately Kathy lives far north of San Francisco and I wasn't able to get all the way up there so I dropped it off at Cyndi's house for safe keeping.  
It was great to see Cyndi and Darrell again.  I started dating Kathy in 1979 when Cyndi was only about 14 years old so I have known her a long time. She is now a mother of 3 as well as an incredibly active athlete.
And then finally I had arrived at my destination, Otis.  Yes, I was going to Berkeley, but I was really going to Otis. He's only 6 weeks old here. After our introductions Mr. Otis settled down and started to get used to Papa Marty.
Since I still had the trailer attached to the car I wasn't sure if I would be able to find a parking place at my Airbnb spot nearby. So Chelsea and I hiked the Berkeley Hills for close to a mile to find the spot. On the way Mr. Otis went to his very first library. It was a free library on the street.
Chelsea, Otis and I had dinner at Cafe Gratitude. I chose the 'I am Humble' for my dinner but I felt Iwas all those things as I watched my daughter take care of my first Grandson. 
As we walked home the sun fired it's last rays into the Berkeley sky.  I am blessed.
_________________________
California Road Trip
Part 1
_________________________