Continuing my epic road trip to California and back…
__________________
Day 6
By day 3 in Berkeley I had a rhythm of going to the French Hotel and Coffee Bar on Shattuck to pick up some pastries and coffee, then heading over to Chelsea's house. She seemed thankful for the Cafe Mocha that morning but it sort of looks like Otis is in need of it even more.
________________
One of the cool things about staying at Airbnb spots is seeing homes uniquely designed.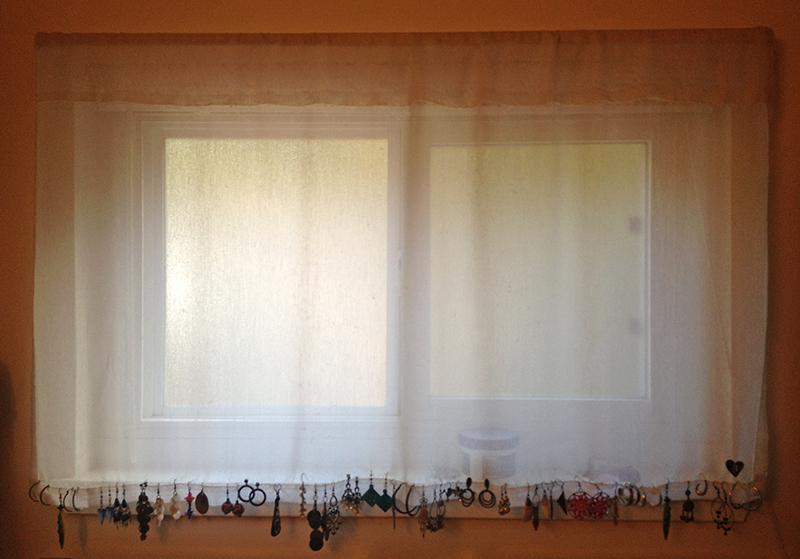 My hosts in Berkeley had devised a pretty cool way to both display and have available their collection of earrings. they simply hooked them on the bottom of the sheer curtain in the guest bathroom.  I don't know if it originally was a way to keep the curtain weighted when the window was open and the wind was blowing, but it made for a fun and unexpected design element in the bathroom.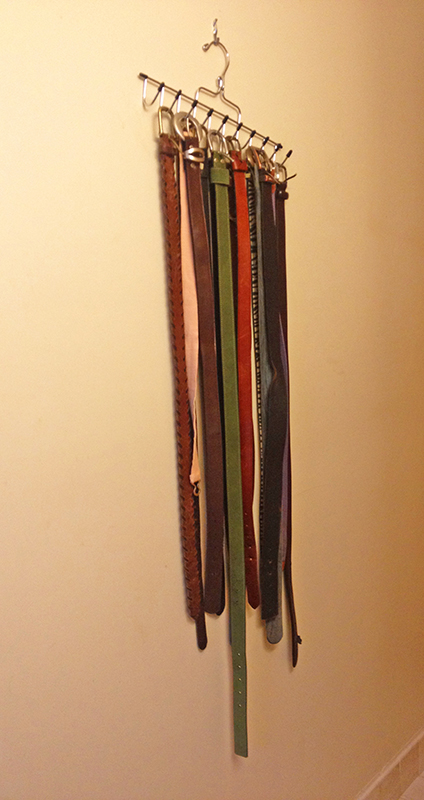 And here was another design element in the bathroom I thought was pretty cool. It was a functional art piece on the wall and I liked it!  And no, I did not steal any of the belts, though the green one was tempting!
_______________________
Graham had to rehearse for a big show he was going to be in so Chelsea, Otis and I took a foray into the hills of Berkeley. We went up to the very top of the area, to Tilden Regional Park.  It is a beautiful and serene spot not at all far from the bustle of the East Bay.  We chose Lake Anza because Chelsea could sit and nurse Otis while I went on a run around the lake and presumably I would not get lost. I took a few spurs off the lake not realizing it but I made my way back without too much consternation on anyone's part.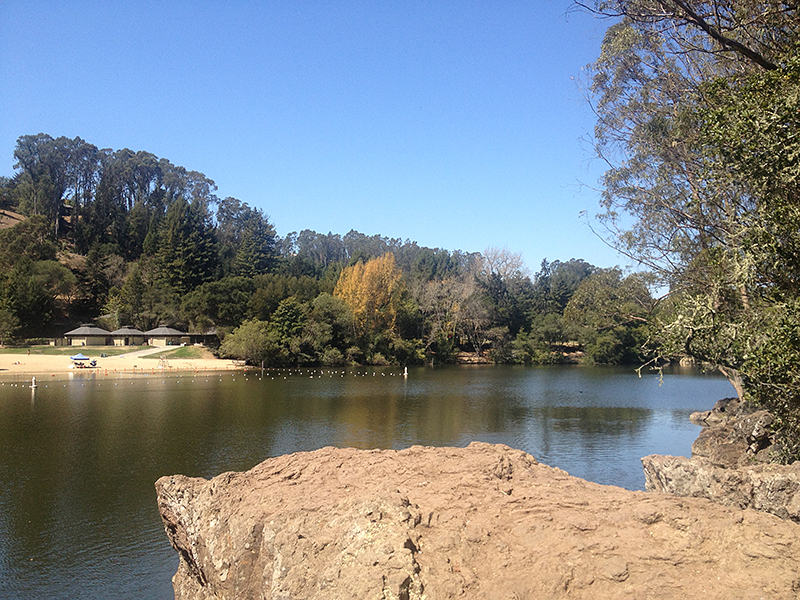 This is about a 3rd of the way around the lake. Chelsea and Otis are just to the right of the marker in the water in the middle of the image.  On the left is a popular beach that allows you to swim in the lake. It even has lap lanes beyond the play swim area. I thought that was a pretty cool idea.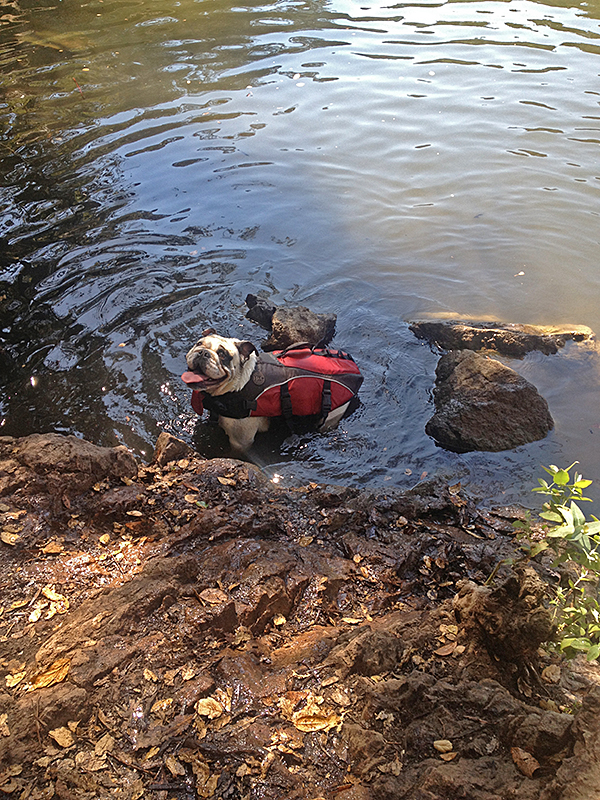 Right after taking the vista shot of the lake I turned was about to restart my run when I found this fellow fetching balls while wearing a doggie floatie vest.  I immediately thought of a friend of mine back in Tulsa, Rosemary Dougherty, who has a serious love affair with all things bulldog.  I knew it would make her happy to see him and it did.
In the meanwhile, this is the trail I was running. I thought I was going to be running a flat trail around a lake, but it was anything but. It was a challenge! I twisted my foot at one point but didn't really feel it until that night and it wasn't serious.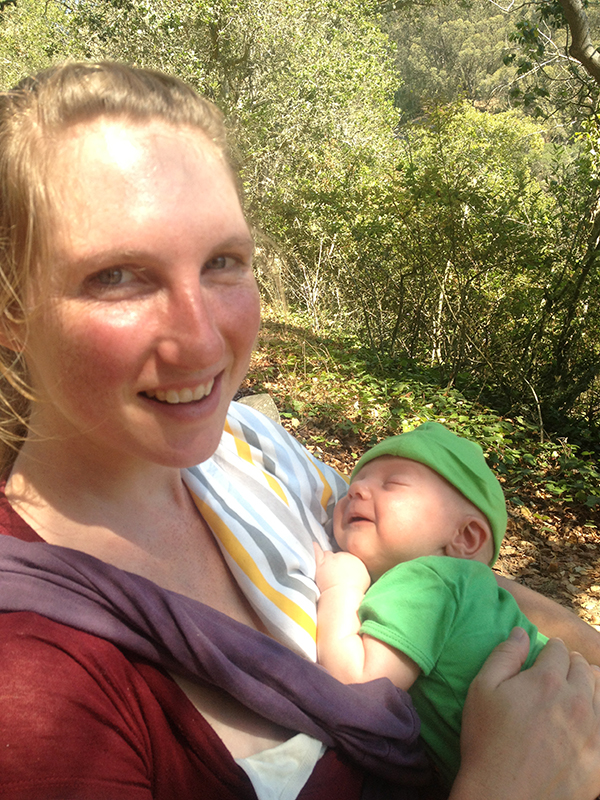 When I returned Otis was a happy camper, as you can tell!  
After Otis was filled we took a hike down Chelsea's favorite trail.  It was easier than the running trail I found, that is for sure. We think of redwoods as being in big forests all by themselves but throughout Northern California there are many places they grow in and among a wide range of trees.  Tilden Park is one of those places.
Along the trail we found an old pump house.  I loved the stone around the empty window and had Chelsea and Otis sit in it for a portrait.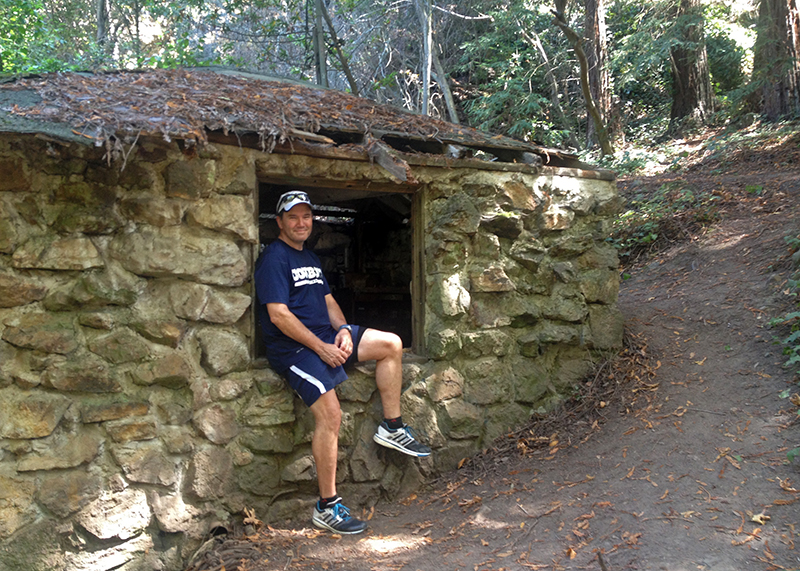 I got Chelsea to take one of me as well.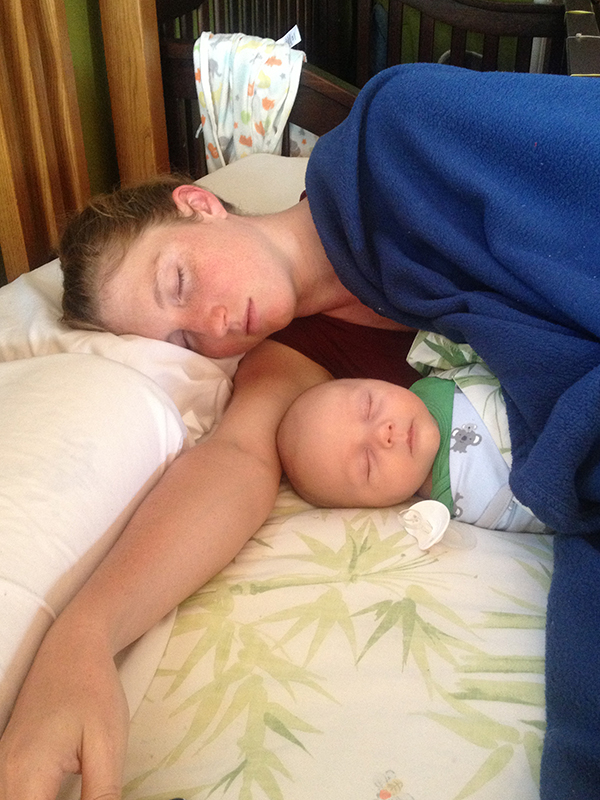 Chelsea kept Otis in the wrap for the entire hike. It was long and got a bit warm by Berkeley standards (still felt cool to someone from Oklahoma though). It translated into both of them being very tired when we returned to her apartment and they settled into a nice nap.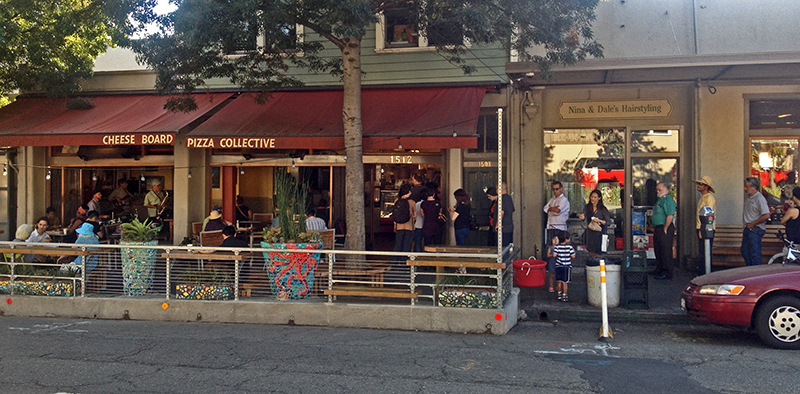 While they slept Graham and I walked down to Shattuck Avenue, to an area of Berkeley known as the Gourmet Ghetto.  Destination: The Cheese Board.  As you can tell from the line in the photo, it is a popular place.  It sells only one type of pizza per day.  No choice.  It's listed on a board but all those people in line? They don't check first to see what the type is for that day. They know it will be great and they are going to get it no matter what. We were the same way. Turned out ours was fantastic, with guacamole and cilantro and peppers and sausage (if I remember correctly). YUM!  They also had a cool jazz band playing.  It was quintessential Berkeley.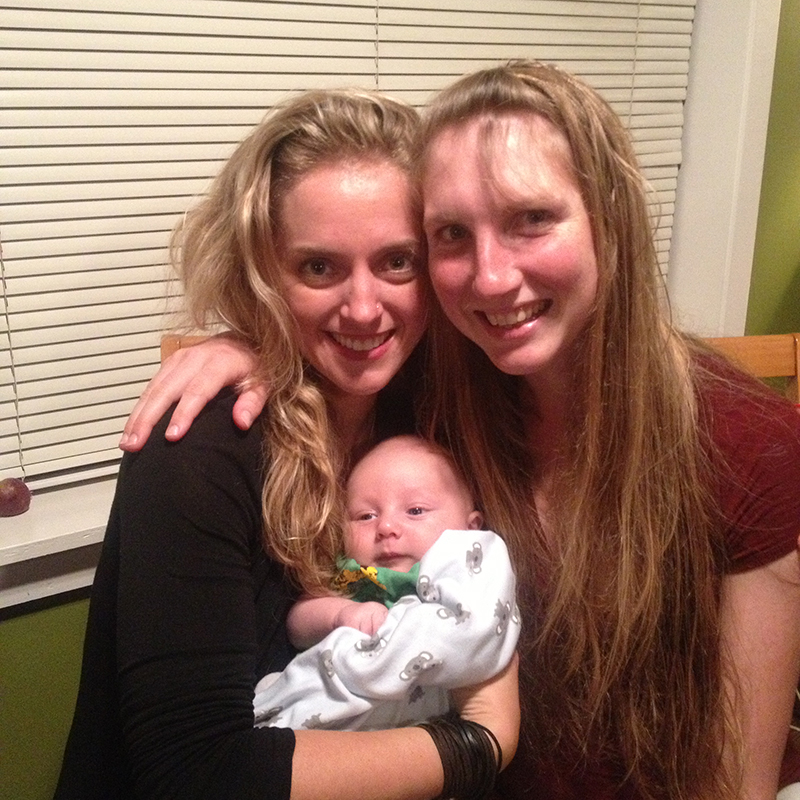 Later that night Otis' Godmother Lina came over to see Otis and meet me for the first time.  We hung around for a long time talking about all sorts of things. She had just returned from her umpteenth time at Burning Man so she had lots of stories to tell. Chelsea and she gave me the low down on how to prepare and experience Burning Man in case I ever make it to the event.  I want to and hope to within the next few years!
________________________
California Road Trip
Part 3
________________________